Red means stop, green means go
OK, before boxing the baby up thought I'd shoot a couple more pics.
I encourage those interested in the amp to read this whole thread (ha ha, hey at least 1st 2 pages) and if a DIYer & interested (not afraid of a couple parts orders & drilling a few holes) contact runeight... But here's a quick run-down of features:
Compact Tube Hybrid fitting on a 75mm X 120mm board (targeting Hammond 78mm X 120mm X 43mm case: http://www.hammondmfg.com/pdf/1455K1202.pdf)
No trimpots in frontend. Rolling 12au7 class tubes consists of turning off amp, pulling one tube & inserting another. Can be 6922 class tubes too (switch for 6.3V / 12.6V heated tubes). Other tube types may also work. SM heater regulator needs no heatsink & only gets about hand-warm.
Runs tubes at about twice plate voltage of some other hybrids such as the SOHA (75V, may change 2 resistors in BoM for 80V)
Uses discrete output buffers, rail splitter.. Driving most types of cans (very) nicely.
Implements AMB's e12 muting delay & offset protection (& red and green LEDs)
Completed build w/case & 24VAC 0.8A+ A/C adapter should come in about Edit: $150 USD plus any shipping & taxes (before any group buys or such)
See my posts for my initial impressions... We have another build on the way & room for more
OK, now for the LEDs. During the minute or so muting delay while waiting for tube & buffer to settle in we have the
RED
of bicolor LED on:
Or in the unlikely event that the e12 goes into protection mode (about 100mv offset or more). Uses direct-coupled output stage (the best kind of output capacitor - none
, so this protects your cans in the event of build error or (unlikely) part failure.
After the minute or so warm up we have the
GREEN
of bicolor LED on.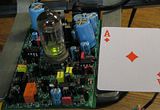 This should satisfy your wallet, some audiophile needs and perhaps those of your SO... Maybe even getting some "Oh, that's sooo cute!"s out of the deal.
Oh, for you lady builders, maybe some "Oh, I'll take that!"s