Okay - a provocative title but I seriously think the Beyer DT 48 E might just take the cake here.
You can count the head-fiers who have even heard it one one hand - so the recommendation are few and far between.
Recently there was
a thread
featuring some first impression that had a couple folks come out of the woodwork and praise them and then there's a mention or two in the monster beyer roll call thread - but not too much more than that excluding their mention as a historical note (they are perhaps the earliest production headphone - search here for history of headphones or look at wikipedia) or for their function in hearing tests.
I first came across these gems when I heard a few very respected head-fier's and various studio folks praised them as rivaling the AKG 1000 or better stax systems (I'll refrain from giving names to protect the innocent).
Well after buying and selling a half dozen current and vintage versions of them, I settle on the current 25 ohms DT 48 E with the stock cirumaural pads and then had them recabled with RAL cable I bought used that terminates in a mini jack.
See pics: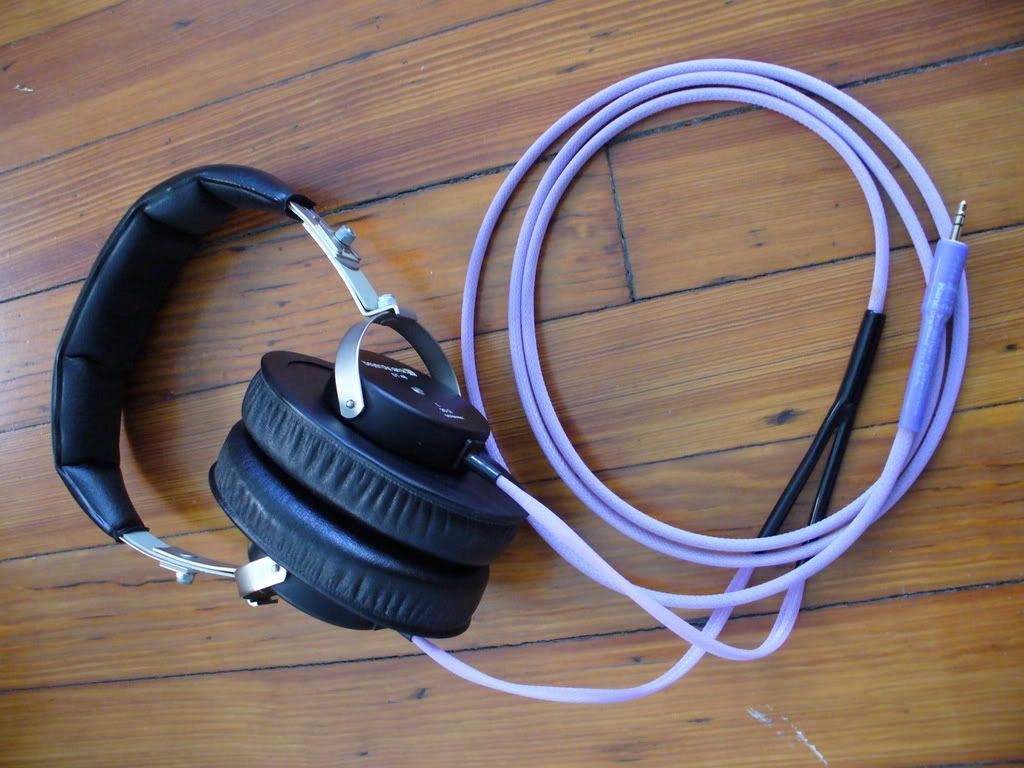 First off, these are metal cans, the housing and the headband are metal and about as indestructible as a grado PS-1 - absolutely bullet proof. You'll occasionally come across some from the 1950s if you look carefully and I have yet to find a pair that was faulty for any other reason than a cable.
And now a work on recabling. Believe in it or not, it does make sense with these ancient cables, which if vintage tend to have functional issues.
RAL may be a crook, but if you can get the cable it's basically the best stuff out there, IMHO destroying every major aftermarket cable (note: I haven't yet heard A Pure Sound's V3). RAL tend to be hyper detailed and with these cans it makes an unreal combination, for reasons I'll get into shortly.
There are various versions and each version can range in impedance between about 200 and 5 ohms and each has a fairly distinct sonic signature.
There are a couple of pad options, the supraaural, designed for the hearing tests DT 48 A stock, and the cirumaural DT 48 E stock and some folks on ebay and elsewhere making custom pads you'll come across every now and then. The supraaural are extraordinarily uncomfortable, but then again they are designed to be worn a short while during hearing tests. The circumaural are comfy and have more bass, important for reasons I'll get into shortly. Replacements are available from Beyer or places like Trew audio.
Isolation. These have it in spades. Remember they are hearing test or studio cans. I'd say it's greater isolation than the AKG 271, the senn 280 or 25-1 or the beyer 250 - just first rate noise blockage.
Physically they are almost unbreakable but have some quirks. For instance, to adjust the size, you have to literally loosen and tight a hex bolt on each side! The headband itself is a comfy, puffy beyer. The sliding piece that adjust size to have some plastic and they are prone to breakage on their tips, especially on vintage version, but that's doesn't affect function or fit and you can't really see it or wouldn't notice it unless someone told you so I've never bother to replace them.
Price. They are not cheap, retailing for close to $500 some places but available from online stores for just under $300 if you call (B&H from time to time). They show up on ebay as well - check the german ebay too. There they have been selling for around $200 used, partially because studio folks snap them up as well as general consumers. But again be warned, even if they don't list it often the cable has issues on the vintage or used versions.
On now, the sound. In short, astonishingly revealing - hyper-resolving. On the drier, analytical side, but worth that price of admission to hear details simply not audible on cans such as the RS-1, Beyer DT 880, Senn 600/650 or AKG 501/701. Seriously, no joke, no lie. A/B them side by side and your jaw will drop. That may not be too surprising considering research labs conducting medical studies on hearing as well as your local audiologist use them, but it is truly something to hear one in your life.
For example, I hear specific conversation in the back of the room on lives recordings, hear them as in can follow them clearly, conversations not present with any other cans. Tape drop out are not just notable but obviously so. crazy, crazy stuff.
Typically, conversation revolves around fun, wet, warm cans versus dry sterile cans. These are analytical but they don't really fall into this debate. For instance, I strongly dislike the AKG 701 and am not a huge Senn fan either. Grado fun is enjoyable, but I prefer these. Why? It's tough to say.
Listening to them, they are starkly coherent with razer-sharp distinction (descent head-stage to boot) but they also get your toe tapping. It's really like being in a club or recording studio with a raw, unadulterated mike in front and an artist singing away. They are not an instrument in themselves as the grados, but not a sterile or veiled tool as I've found with other cans.
They scale very, very well and are almost hyper sensitive with source and amp - and yet, at 25ohms they are enjoyable straight out of t DAP. You'll loose resolution and they'll get a bit muddled up when attempting to resolve complexity with such a set up, but still very enjoyable compared to some of the better closed cans that get kind of strained.
Jazz and vocal are the obvious mates but listening to rock guitar gives you goosebumps and large symphony seems 'right'.
One of the odder experiences with them is hear over-tones and harmonics that are much more subtle or not present with say a Beyer 880, RS-1 or 600. It's not just that the these resolve music better it's that they are conveying additional information. I know, I know it's a crazy claim - but it's true.
I have not tried these with a tube amp - my hunch is that a great tube amp would make a heck of a combination. I also haven't heard any of the crazy stax systems and would love someone, perhaps at a meet, to do a side-by-side.
Underappreciated? Yeah. In a meritocracy, these would be a very frequent recommendation for a host of folks (dorms, dedicated high-end home rigs, alternatives to a collector's main can's, heck even cans for listening to a DAP at home sans an amp). Hopefully this thread will put them on folks' radar and maybe even help someone find and enjoy these little gems.
Happy listening