DENON D7000 is real.
I've got a chance to audition DENON's new flag ship D7000 at Tokyo DENON office.
It was early August but I was not allowed to open this til today. The official announcement will be made in next week.
So this is a preview actually, though the demo unit was a final production model.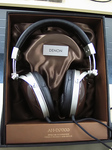 The MSRP of D7000 is 126000 Yen (include tax). It will be available around the mid of September.
Click pictures to enlarge.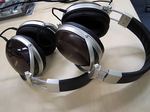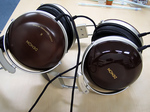 D7000 and D5000, glossy one is D7000
At the first look, D7000 looks like almost same to D5000 except the piano finished housing. The housing is made from mahogany as already leaked in this forum.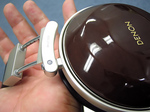 In a closer look, the plug of D7000 has changed to 1/4 from 1/8 and the position of lettering has slightly relocated. I was not able to find other major changes. Away from the look, the pad material is also revised. This is softer and more comfortable to wear. In add, they told me that the cable sleeve has been improved. There is one more invisible change. From the brochure, D7000 employs 11.4% stronger magnets to enhance sound quality.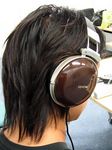 The outer difference looks small, it's time to hear the difference.
We were able to audition D7000 with the D5000 side by side. I brought my faithful SR-71 and iMod 5.5 to hook it up.
To my surprise, the look is similar but the sound has drastically changed from D5000. I'd say the former D1000/D2000/D5000 share the same sound signature but the D7000 is not on the line of the predecessors.
I auditioned with two friends and we all share the same impression.
The sound of D7000 is noticeably darker, deeper and laidback.
I felt it something like Senn so I thought the impedance has increased or effeciency has lowered. Actually I have to raise the volume to match the D5000. I told this finding to Denon people but they did not have enough technical information about that.
Next, I was amazed by the bass quantity and quality. The bass is huge, deep and much detailed. Wood bass note is realistic and impressive.
So my first impression was something like an L3000 blended with Senn.
Sound staging is not only wider than D5000 but it's fairly expansive as if I were in a large hall.
The housing is made of wood but I did not notice remarkable wood resonance like wooden Grados.
As for mid range, the vocal is articulate, rich and full. It's just stunning especially with warm SR71. S-sound harshness could be a little exists but not prominent anyway.
The mids to highs are clear and crisp, the timbre of this portion may be similar to the predecessors. But I did not feel it is so airy as it is darker overall.
Some may prefer D5000 rather, as the sound signature is so different. However, I think D7000 is a better can in general. D7000 has better resolution, sounds bigger and the bass is so impressive.
In my opinion, D7000 is a bit expensive and comes to the playground a bit late. But it's surly the new king of Denon cans and well comparable to other kings.