After a couple of weeks of ownership of this wonderful headphone amplifier, I thought I would put up my first post in Head-Fi. I ordered this amp in early June and received it by the end of that month. Very quick turnaround in an environment where a few other brands can leave a customer waiting for a long and indefinite period.
The 307A is the brainchild of Pete Millett and marketed/sold through Todd Green at TTVJ. A long history of collaboration and friendship has existed between Pete and Todd, dating back over a decade. Approximately six months ago, Pete contacted Todd about a statement amp that he had designed. Todd is a guy who is not easily impressed, but after receiving and listening to the prototype of the amp, was "floored" by the sound and build quality. He immediately made an arrangement with Pete to bring this amp to the market, and I am glad he did.
The TTVJ Millett 307A is a unique headphone amp. It is a single-ended triode, transformer-coupled output amplifier that is "point-to-point wired" with the shortest possible signal path. The 307A offers three inputs, which may be chosen to either be XLR or single ended. This amp is also the "jack of all trades" when it comes to dynamic headphones, with balanced and single-ended headphone outputs, and is switchable for low or high impedance. Other interesting and special feaures are the specialized output for AKG K1000 headphones and a separate setting for IEM's.
The tubes chosen are also a bit unusual. From the TTVJ webite comes the following. "The input stage uses a 7N7 tube, which is a "loctal" variation of the familiar 6SN7 dual triode. The 7N7 is used because very high-quality, old-stock tubes are available that outperform any modern 6SN7 tubes. The output tube is a 307A directly-heated pentode, which when triode connected makes an outstandingly linear power amplifier. The 307A is a cousin of the famous 300B, but is better suited to the lower power required in a headphone amplifier. And the 5V4GB rectifier was selected for its slow warm-up time and high reliability."
The amp is beautifully designed in an old-school, slightly industrial way. No fluffy cosmetics here, but the wood side panels add a nice touch. I'll let the photographs do the talking.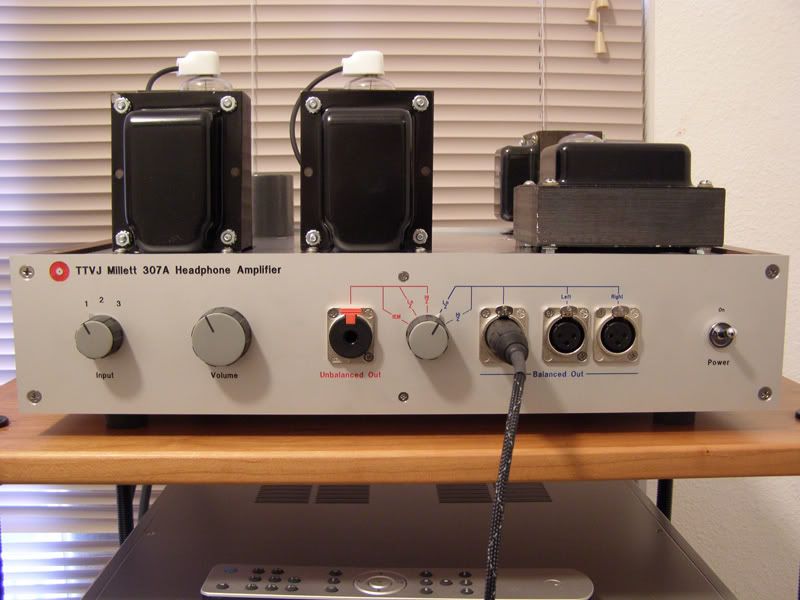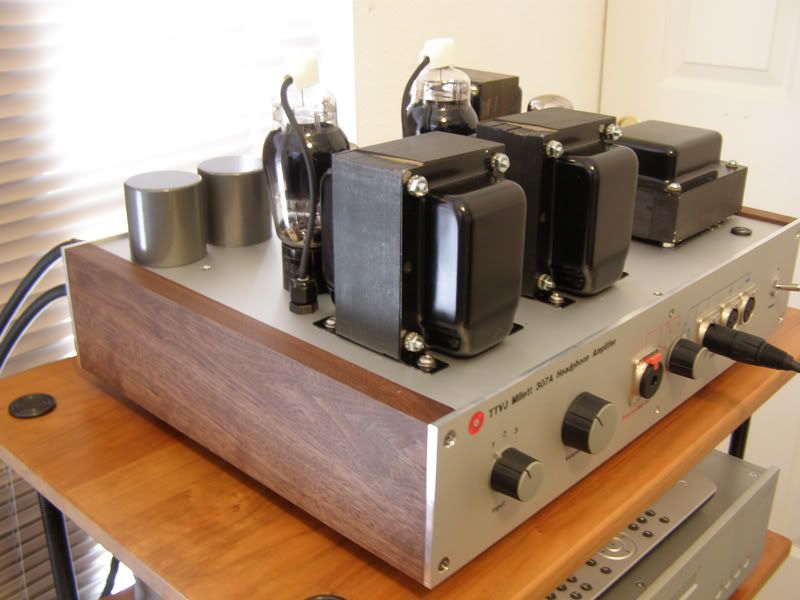 Sound
I called this amp earlier the "jack of all trades" for dynamic headphones. However, as opposed to the traditional phrase, this amp is a "Master of All!" I have used this amp with a number of different dynamic headphones, to include balanced Sennheiser HD650's, Sony MDR-SA5000's, and Denon/Lawton Audio MD5000's, and single-ended JVC DX1000's, and Sony R-10's. I also used the wonderful AKG K-1000. With all of these different headphones, the sound was the best in my experience. This, to me, is one of the hallmarks of this amp, in that this amps does not seem to favor one headphone over another. With the 307A, gone are the days of specific synergy with only one or two headphones, and the listener is free to experiment with any and all brands of headphones knowing that they are getting the very best out of them.
With the Audio Research Reference CD7 and the Cambridge Audio 840C as sources, the sound was incredibly detailed and silky smooth. Very tight bass, lovely midrange, and sparkling highs marked the sound of this amp. Instumental definition and soundstage layering were also very well represented.
If you are looking for a traditional old-fashioned tube amp with rolled off highs and softened bass, then this amp will not fit the bill. The amp is likely the most neutral tube amp that I have had the pleasure of listening to. Compared to the other tube headphone amps in my experience, namely the Ray Samuels B-52 and the Cary Audio SLI-80, this amp is indeed brighter. However, I
do not
mean that the amp is "bright." The upper octave presence of the 307A compared to the other amps represents terrific treble extension and is totally devoid of etch, harshness, or grain.
I mentioned "detailed" before. This, to me, is another hallmark of this fabulous amp. Compared to the other tube amps listed above, hall ambience, subtle spatial cues, and tonal harmonics are better reproduced and make for a much more believable recreation of the musical event.
This is also the quietest tube amp that I have ever heard, with nary a whisper of tube noise at normal listening levels. To me, this represents excellent circuit design and implementation, not to mention that good tubes were shipped with the amplifier.
Other thoughts
Although I am thrilled with this amp, I do have some minor quibbles. First, the leads that attach to the top of the 307A tubes must be on fully or you will get a loud hum out of that channel. I had to angle the leads a little to the side to get a good connection. Not really a "problem," so to say, but something to be aware of when initially setting up the amp.
Two, for "normal" headphones, the volume control will only be usable for a relatively small range. However, for the K-1000 headphones, the volume control has a much wider range of turning. I suppose that is due to the nature of the amp, in that it is more a low-power stereo amplifier than a standard headphone amplifier. In order to drive the K-1000's, the amp has to put out at least 5-10W. Normal headphones use less than 1W. Therefore, when using normal headphones, the amp reaches the 1W output fairly quickly with a small turn of the volume knob, but the volume has to be turned up more to reach the output needed for the K-1000's. To me this is only a very minor issue, and does not seem to affect sound quality. I do wonder, however, if there is a potentiometer or attenuator available that would allow for a wider range of adjustment in the low-end of the power spectrum.
Conclusion
At just under $6000 from TTVJ, this amplifier does represent a significant expense. I do believe, however, that this amp is an excellent value, with top-notch craftsmanship, flexibility, and sound quality. And to top this all off is the outstanding customer service provided by TTVJ. For those interested in a top flight headphone amplifier, I cannot see anyone being dissapointed with the TTVJ Millett 307A. Wonderful!