I grabbed a pair of these off ebay. I was curious after I saw them and I also thought the adjustable bass might be good for my AM/FM minidisc since the radio portion has no bass adjustment and my JVC's have a bit too much boom for my taste. After a bit of searching on Soundmagic and decided to give them a try.
They seem to be only available with ebay store/seller Dpmega as of right now. The price was right at about $40. They are $39.90 if you can grab them with one bid or 42.90 BIN. My experience was just fine with them. They offer one year warranty on the earphones, they communicated well with thank you for purchase and item shipped emails. Stated 7-9 day shipping; I received them on day eight. The package was marked as a gift even though I did not specifically request it.
Here they are.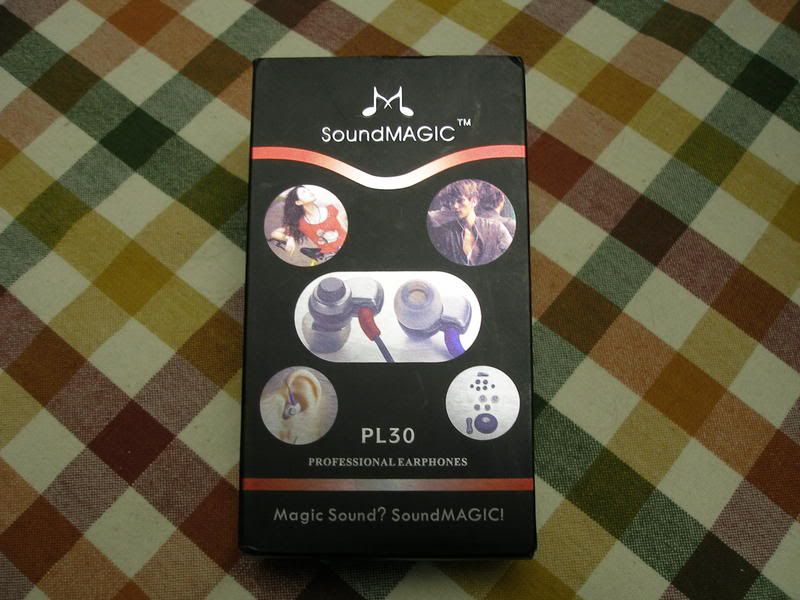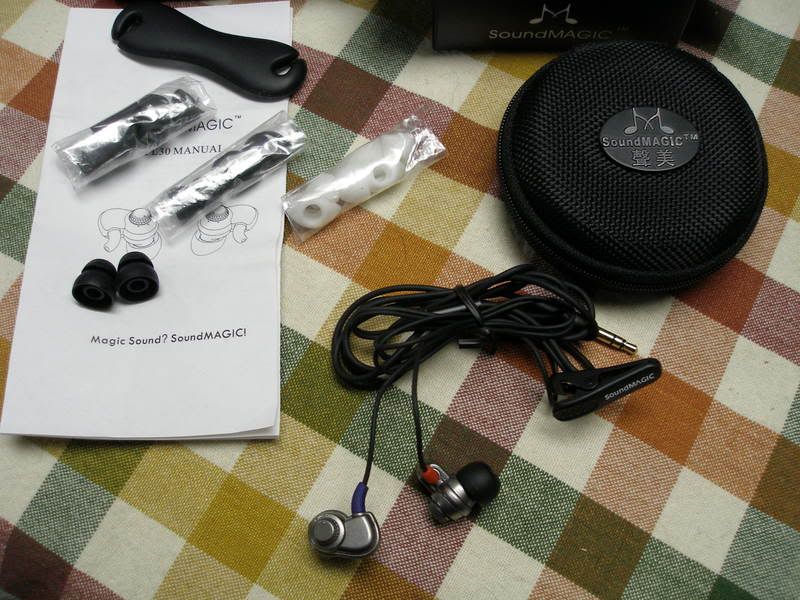 The PL30 comes with an English/Chinese manual and warranty card, cord wrap, zipper case, cord clip, and 10 pairs of tips(9 pairs single flange, 1 pair bi-flange). The three different single flanged tips are colored gray, white and black. The earphones are gunmetal color not silver as on the box.
On-the-box specs and claims...
9mm drivers
102 +/-3dB/mw sensitivity
12ohm impedance
20-22K Freq. Resp.
20mw max input/2mw rated power
More details, Natural reproduction
Comfortable fit
Adjustable bass response
No microphonics with over the ear design
Up to -20dB Ambient noise rejection
My first impressions
Just an hour out of the box but I am pretty impressed.
Many earphones give me problems with fit/comfort in my right ear. These do not. The sound tube is angled both upwards and inwards. They are also comfy due to being the lightest and smallest of my current earphones(fx300 and SE420). Microphonics and bone conduction are almost non-existent(without clip and with regular flanges). With the over the ear design, clip, and cord draw microphonics should not be an issue.
The build quality is not tested yet. I'll see if they last. Other Chinese offerings have had some durability issues. I will have to report back. The design is well thought out though. Metal grill and Y-joint with rubber coated iphone compatible plug. The rubber red/blue strain reliefs/left right identifiers are cool. Don't really need the color ID on this one though since the shape allows for easy left/right ID; Tip inward(of course!) and the rectangular protrusion has to go toward they back of the head. You can ID them in the dark no problem. The cord draw fits snugly and stays where you leave it. The overall build is tight; smooth edges, no gaps or crooked parts and nothing is loose or flimsy.
The bass adjustment knob is also a nice design. No gaps and it clicks firmly to the marked settings. You have either clear bass or deep bass. There is no wobble or play in the knobs either. You can switch on-the-fly with them still in your ears which is cool.
I've spent some time with them and the early sound impressions are good. The sound signature is quite well balanced with the midrange being slightly forward. The bass is punchy, the mids have a slight thickness and weight that is pleasing, and the treble is clear with a nice sparkle.The treble sparkle gives them some more high end detail and extension and keeps the treble from being overpowered by the bass punch or the forward mids. The peak that gives the sparkle stops short of brightness and there is no sibilance with either vocals or cymbals. Nice soundstage, detail level and clarity at this price. These are punchy and fun!
The bass adjustment is not huge but noticeable at this point. Reminds me of the old Sony Megabass switch between off and 1. The Clear Bass is my preferred setting. The Clear Bass setting has a good punch though no bleed into the mids. I assume they will tighten up with enough burn-in but they have little bloat on either setting. A few minutes with the deep bass and there is still good control and the treble is still apparent and extended sounding. Seems to be around a 3-4 dB difference in the two bass settings, enough to make a difference. The clear bass is clear but not weak in impact or amount and the deep bass is stronger but yet stops before muddiness or bloat. The bass is quite level throughout which is why it works. Any nasty humps/peaks in the lows and the deep setting would bloat and clear wouldn't be clear. Nice job with the frequency balance. There seem to be few low price in-ears that don't have thick or bloated bass or that have treble that is either rolled off or too bright. The Pl30 does a nice job, having well behaved bass and treble that that are balanced in their amount and extension. Then throw in the mids that aren't recessed or sibilant. Bottom line - they are worth the dough and seem to be a great option for the under $50 range. We'll see how they hold up long term on the build quality. I'll also have to report back on any noticeable burn-in changes if any.