I recently bought the Asus Xonar U1, an external USB soundcard and thought I'd post my opinions here. The Xonar U1 is a headphone amp and external soundcard rolled into one neat package – ideal for both desktop and laptop use.
Many people seem to ignore the sound part when buying or building a new PC. Up until now I have too, although not due to ignorance but due to two issues I had to overcome.
1) I was looking for a soundcard which had a front panel that gave me access to an external volume control. Most of them don't and the main one that does is the X-Fi Platinum Fatal1ty Champion Series which costs £110, quite pricey.
2) Having a young son has meant that most of my PC usage is done with the use of headphones nowadays (so to not wake him in the late hours!) I use a pair of Sennheiser HD 595's with my PC which offers a great open sound and is equally comfy for long gaming sessions! However, I felt that they really needed a headphone amp to get the best out of them but was put off by price again, with many of the decent brands costing over £100.
I then came across a device that looked to solve both dilemmas. The Asus Xonar U1. On paper it seemed to solve all of my problems, combining an external soundcard with a decent headphone amplifier, all for just over £60 delivered. When looking to buy mine though, a fortnight ago, I could hardly find any retailers stocking this (I was surprised that some of the bigger technology sites like eBuyer, Scan and OCUK didn't even have it listed!)
Komplett
saved the day though, delivering it in a timely fashion and in good condition – kudos to them! :smashin:
Hardware
The unit itself comes in quite small packaging which houses the unit itself, a microphone, a SPDIF adaptor to allow it to be connected to a surround sound system, a Dolby demo CD, a drivers/software CD and a manual.
The first thing you notice is how sleek the unit is. Whilst the U1 comes in various colours, I was after the black version and luckily for me it was the only colour Komplett stocked! It has a nice solid fell to it with the top turning to adjust the volume. The volume control has no catch so it will keep turning in one direction continuously if you want. Some reviews have pointed to this as a negative but it didn't bother me in the slightest.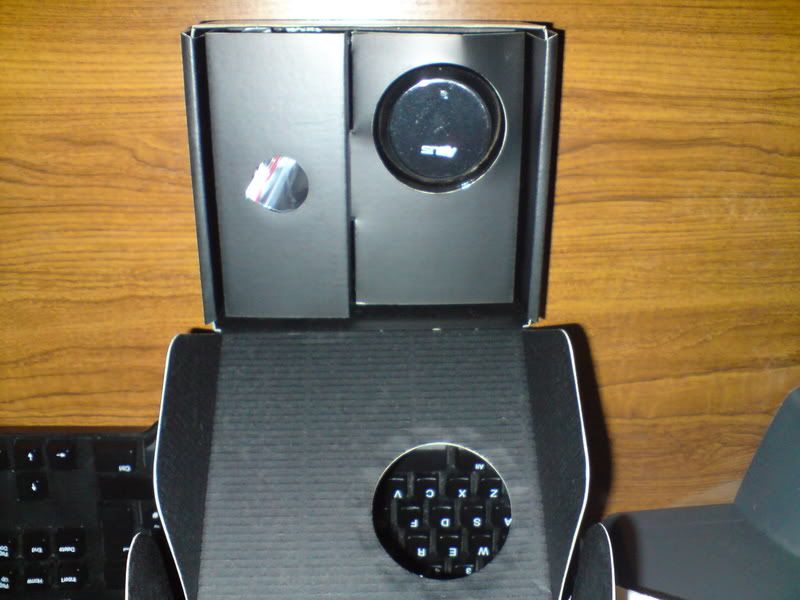 The second thing you notice is how small the USB cable is. Now I know this is more marketed towards laptop use than desktop use however, even for laptop use I think it's not long enough (depending on where you place the laptop). I've currently got mine placed on top of the PC, although I'll be buying an USB extender so I can get the unit onto my desk.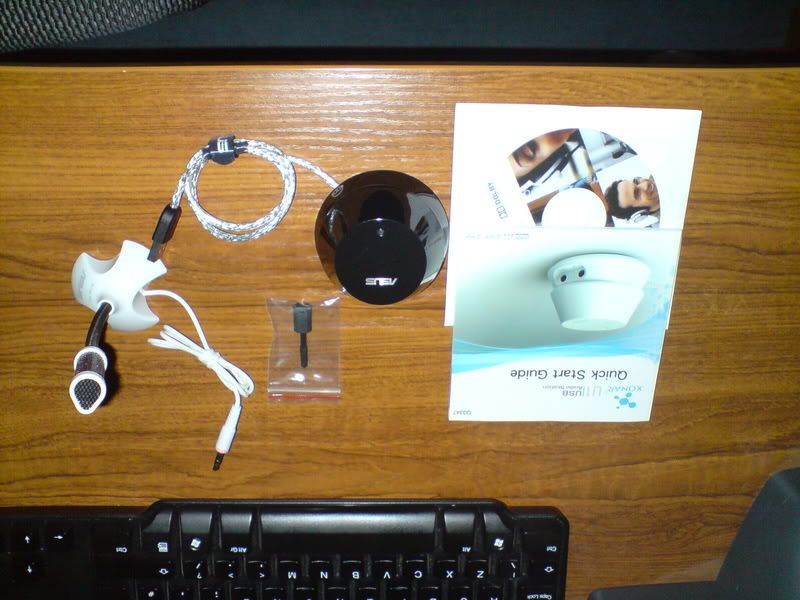 When trying to connect this up I came across another problem, the recess for where the headphone socket is restricts some 3.5mm headphone jacks fitting in. I had this problem with my HD 595 which uses a native 6.3mm plug but comes with a 3.5mm adaptor. As it wouldn't fit I attached a 3.5mm extension lead to get it to work. Not a problem for me as I had an extension lead lying around but worth considering if you have a decent pair of headphones that you want to connect up.
Once the unit is connected, there is a small led light on the top that will flash blue (quite slowly so it doesn't get annoying) when using the DSP modes. If you switch to the HiFi mode (which turns off all sound processing) the light will stay on continuously. You can also mute the sound by pressing down on the unit which will turn the light red. It's all quite intuitive, although I can understand that the flashing light may annoy some people if it is placed next to them.
Software
Once it was all set up I installed the drivers from the Asus' website and I understand that this provides a similar front end that exists for its internal soundcard solutions. I have to say that I didn't find the front end very intuitive and had to use the manual to understand all of its virtues (normally a last resort for me). After 15 minutes though it all seemed reasonable and I was able to tweak away without the manual's aid.
There are a variety of options in terms of different DSP modes (along with HiFi mode which turns off all sound processing), sound equaliser plus different listening environment stages too. I like things quite natural so I didn't dabble too much. The U1 supports most of the latest processing systems including EAX, Dolby Headphone, Pro Logic II etc. Asus also included its PiMP software but I didn't bother installing it I couldn't see its worth for my use.
Sound quality
I messed around with its four main DSP modes (HiFi, Gaming, Music, Movies). Starting with music I used the 'Music' mode and immediately noticed how hiss free my music had become from using onboard audio. The sound is very clean but it was processed a bit too much for my liking (I'm sure it will suit others). Selecting the HiFi mode made a world of difference with a much more stable and rich soundstage than before. I had a real feel for the amplifier at work here with a lot more 'depth' coming out of the HD595's than before.
Whilst I didn't like the use of the processing for music, it really does make a difference with games enabling an almost 5.1 soundstage through stereo headphones. Dolby Headphone in particular made a world of difference for the games I tested (Crysis, COD4 and Bioshock). I can't see my going back to onboard audio!
Overall
I can understand that for many internal soundcards will always be preferred. Personally for me though, Asus has delivered something that I've been after for a long time!
It offers a substantial improvement over onboard audio and the ability to adjust headphone volume without clicking into the desktop was a godsend. Now I can have a seamless experience when watching movies, playing games or listening music on my PC.
The fact that the unit also packs in quite a decent headphone amplifier for the price is another major brownie point. Whilst the U1 is marketed towards laptop users I'm sure it will also attract those who were in a similar predicament to me. In terms of sound quality, it won't worry the higher end cards from Creative or Auzentech, but for the price it's not trying to. As long as you realise its limitations its difficult not to fall in love with this great piece of hardware. A big thumbs up from me. :thumbsup:
Positives
-Good value for money considering you get a decent headphone amplifier and soundcard in one package
-Good quality sound for the price and substantial improvement over onboard audio
-The headphone amplifier transformed my enjoyment of the Sennheiser HD 595s
-The external volume control is a godsend for headphone use
-Nice weighty feel to unit
-Very portable if using with laptop
Negatives
-Software could have more customisation settings i.e. for the four different DSP settings
-Short USB cable
-Headphone socket recess is not large enough for some headphones
Reviews
In this mini-review, I haven't touched on many of its other features like using the mic for VOIP, or its PiMP software or the SPDIF adaptor which effectively converts the 3.5mm headphone socket into an optical socket. I've only talked about what I've personally used it for, however there are quite a few more thorough reviews on net. Here's some of the best that I've come across so far:
EverythingUSB
Virtual Hideout
Hardware Canucks
Trusted Reviews
aph. networks