Review of the Little-Dot MK1 Portable Headphone Amplifier
01/12/08
Review equipment listing:
Creative Zen Vision (First Version)
Microsoft Zune 80
ASUS Notebook A8JS
Zero 24/192 DAC/Head Amp/Pre-Amp
Microsoft Zune 80 default IEMs
Sennheiser HD-280 pros
Sennheiser HD-580
Sennheiser HD-650
I ordered my Little Dot MK-1 portable amplifier on the 6th of December. The unit arrived at San Francisco and into customs on the 8th. Much to my surprise, the postman knocked on my door the morning of the 11th, with my MK-1! Five days total to my door in Arizona!
Out of the box:
The exterior box was a typical shipping box and had very little damage. Cutting the tape and opening up the box, I found another box surrounded by ½" foam. Inside that box, was a top sheet of ½" foam, which I removed to find my MK1, cradled in soft foam cutouts. Contents of the inside box were: The owner manual in plain English, a retail mini to mini cable still in the retail package, a really nice soft leather pouch, an A/C power/charger and the MK1, which was incased in a protective plastic bag. I immediately looked in the owner's manual to find out the initial charging requirements, which stated that I should give it an initial charge of 4 hours. I plugged in the A/C charger and started the initial charging. I took this time to read the rest of the owner's manual. This is by far the best owner's manual I have seen coming from Little-Dot. I took the mini to mini cable out of its package and it seems to be of reasonable quality; OFC copper, gold plated ends, about 6" long. The MK1 its self is beautiful. Unlike the pictures on the Little-Tube site, my MK1 has light grey/silver body and black aluminum ends. The finish on the body is shiny, but doesn't seem to pick up fingerprints too badly. The lettering on the body identifying the unit is bright silver and looked great on this color of body. On the black back of the unit, were the following items: Charging adapter socket (DC 18V) and the indented micro-switch for gain settings (2,4,8) with 2 as default. Lettering identifies the type of batteries on board the MK1, which reads "LI-Battery DC 4X3.7V. On the black front of the MK1 are: Volume knob, audio in and audio out (3.5 mini sockets), power switch and an indicator LED (blue). What impresses me about both ends is that they are clean and simple. They add to the beauty of this unit, instead of subtracting from it. Everything is in a proportional size, which also adds to the attractiveness of the unit. There are four imbedded black Allen-head screws, two on each end, holding the ends to the body. All in all I would have to say the MK1 is an impressive looking unit and I can hardly wait to fire it up!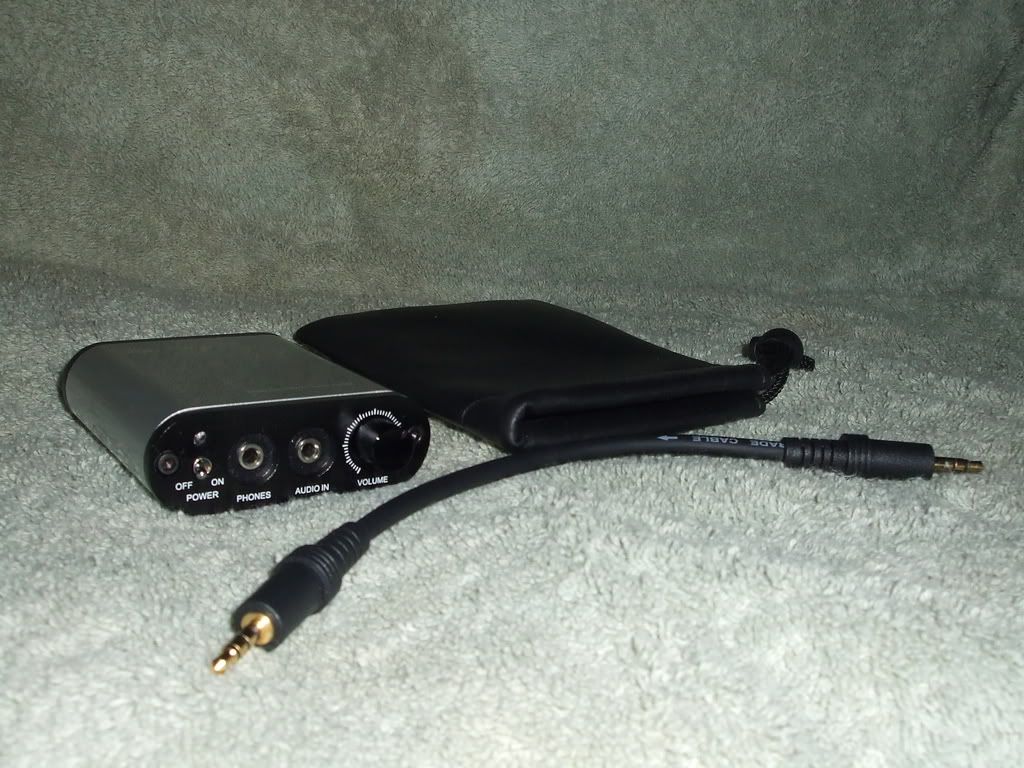 MK1 Specifications:
National Semiconductor LM4562 High-Fidelity Op-Amp
Socketed 8-pin Opamp design for Opamp rolling
Texas Instrument TPA6120 Headphone Amplifier Circuit
4x 500mA/H 3.7v Rechargeable Lithium-Ion battery
Approximately 20 hour's battery life per charge (normal portable load)
Frequency response: 10 Hz~200 KHz (-1dB)
THD+N: 0.001% (32 ohms, 100mW)
Recommended Load Impedance: 8 ohm~600 ohm
Power Output:
30 mW @ 600 ohm
60 mW @ 300 ohm
150 mW @ 120 ohm
500 mW @ 32 ohm
User Adjustable Variable Gain: 2, 4, and 8x
Included 18V AC Charger for recharging and/or power supply for home use
Dimensions (Metric): 95 mm length by 70 mm width by 24 mm height
Dimensions (English): 3.74 inches length by 2.75 inches width by 0.95 inches height
Weight: 192g or 0.42 lbs (including battery, not including AC Charger
Initial startup:
I knew from the Owner's manual, that I needed to run the MK1 when fully charged and exhaust it, then charge it back up to full and repeat this several times. There is no better time to do this than now, so I decided to use this first charge on the Creative Vision as a source and for listening, I will try pretty much everything I have. Using the supplied mini to mini, I connected the Vision to the MK1 and set the gain switch to 8 (highest setting) for my HD-580 & HD-650. I want to see how well the MK1 can drive 300ohm headphones. I plugged in the Vision's line out, and plugged in my HD-650s, and then I powered everything up. The MK1 rewarded me with a nice blue LED. Using the Creative Vision allows me to use its Line-Out jack and vary the volume strictly from the MK1 and benefit from the better sound quality.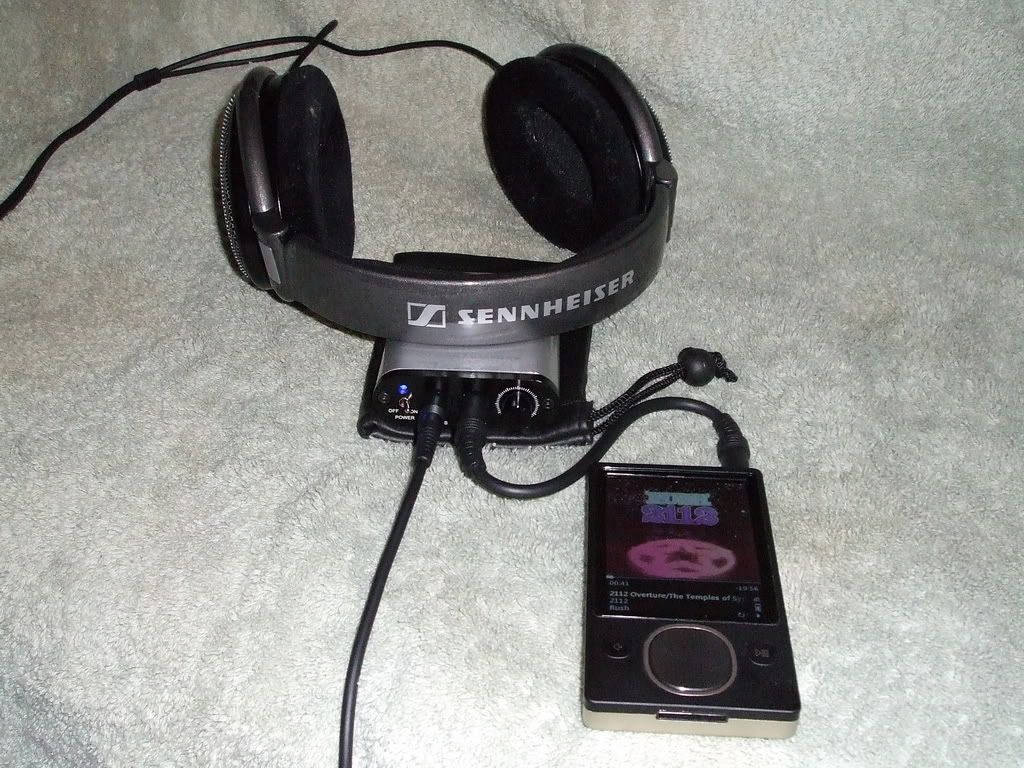 First listen (during initial startup):
After picking an album to try, I put on the HD-650s and pressed play and ran up the MK1's volume to ¼. At this level, the volume is exactly what I would call the perfect volume for easy listening. I am hearing an excellent full spectrum of music. Deep bass, clear mids and highs reaching way up! The sound is dynamic, full and flat, with no bumps or extensions at any frequency. Piano passages sound accurate and sweet, vocals are clear and accurate. This is very nice. The bass seems driven very easily and extends way down. Now it's time to take the volume to ½. Wow! At this level, the HD-650s are cranking pretty good. I still hear the same sound signature as I did at the lower setting, but I am so immersed in the music. This is impressive! It is not tube sounding. It sounds like pure, transparent solid state amplification. At this volume, I was expecting the bass to start losing any overhead available to it, but instead, everything sounds as it should. There is more power available in the MK1 and I'm going to run the volume up and see where we go. To have a volume scale that makes sense, let's call ½ of the volumes possible travel 50%. Up we go. At 60% it is louder and no changes, at 70% it is much louder (I can't enjoy music at this volume) and no changes!!! I'm flabbergasted! I'm going to change the gain to "4" and see what that does to our volume scale. Well, the scale has now changed to where I can max out the volume and just barely tolerate the high volume. The scale has changed about ¼ up. That is, what was ¼ is now ½ and so on. I'm experiencing the same thing as before, no changes detected even at extreme levels! The bass doesn't lose punch or detail, the mids remain even and clear and the highs still extend up high with all their great detail. There was no change in the sound quality with changes in the amount of gain used on the MK1. This will have me thinking for some time to come. At this point, I came to realize that I have given the MK1 the most demanding test I can come up with, the 300ohm load of the HD-650. The HD-650 should reveal any problems with the amplification very easily, I had assumed to start diagnosing issues immediately. Instead, here I sit with the goodies in my hands and the HD-650s on my head, and I'm loving everything I hear and feeling totally content listening to a portable amplifier. This is something very new and outside of my "normal" exposure and it gives me a different kind of new pleasure.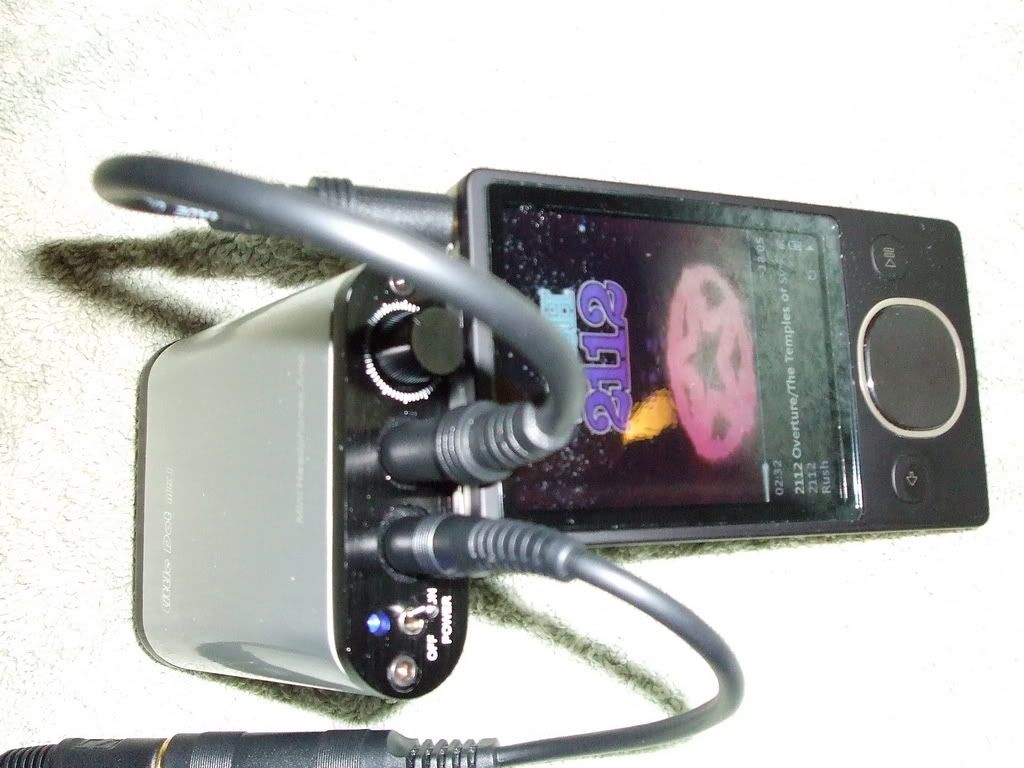 24 Hours into the burn-in and beyond:
I really like what I'm hearing with my HD-580s. Although different than my HD-650s, the sound quality is excellent and I find no problems in any area. I can drive them right up to my limits, and the bass and treble do not suffer at all. I switched sources to the Microsoft Zune 80. What a clean, clean, clean source! This clearly shows that my Creative Vision is like 3-4 years old. Don't get me wrong, the Vision has excellent audio and was Top Dog when it came out and I still like its sound signature and excellent EQ even today. The Zune 80 is new, has the latest audio chip on board and has one of the best, clean sound signatures on the market today. The MK1 absolutely LOVES the Zune 80. It is super clean throughout all frequencies. No spikes or bumps in the frequency response. The noise floor is undetectable. For those that don't have a Zune 80 due to the complaints about no Equalizer onboard, there is nothing to worry about. The bass is evenly present along with all the other frequencies. The MK1 does not accentuate bass or any other frequency. Good amplifiers shouldn't and the MK1 is proving itself to be on heck of a portable amplifier. So far, I'd say it could even be used dual purpose and serve as a desktop headphone amplifier if your setup allows. I'll want to prove this first though.
I left the MK1 powering my HD-650s overnight, with gain setting of 8 and the volume at around 50%. I had to put the Vision, MK1 and HD-650s in a drawer and close it so I didn't disturb myself! At 5:30a.m the Vision ran out of charge, so I swapped in a freshly charged battery and resumed the overnight playing. At 7:30 this morning, the MK1 ran out of charge. Yesterday, the initial four hour charge ended at 2:30p.m and I ran the MK1 testing it hard until about 11:00p.m. This means the initial charge got me 17 hours of hard/medium mixed level output into 300ohm headphones. Not bad at all.
The 2nd full charge lasted a total of 17 hours. This time I will only charge it for 3 hours per the owner's manual and see how long it will last. Using the MK1 during this second round, I didn't notice any sonic changes in the MK1. So, at this point, I can conclude that any burn-in required is over and the MK1 is constant throughout its discharge and has plenty of power on tap anytime you need it.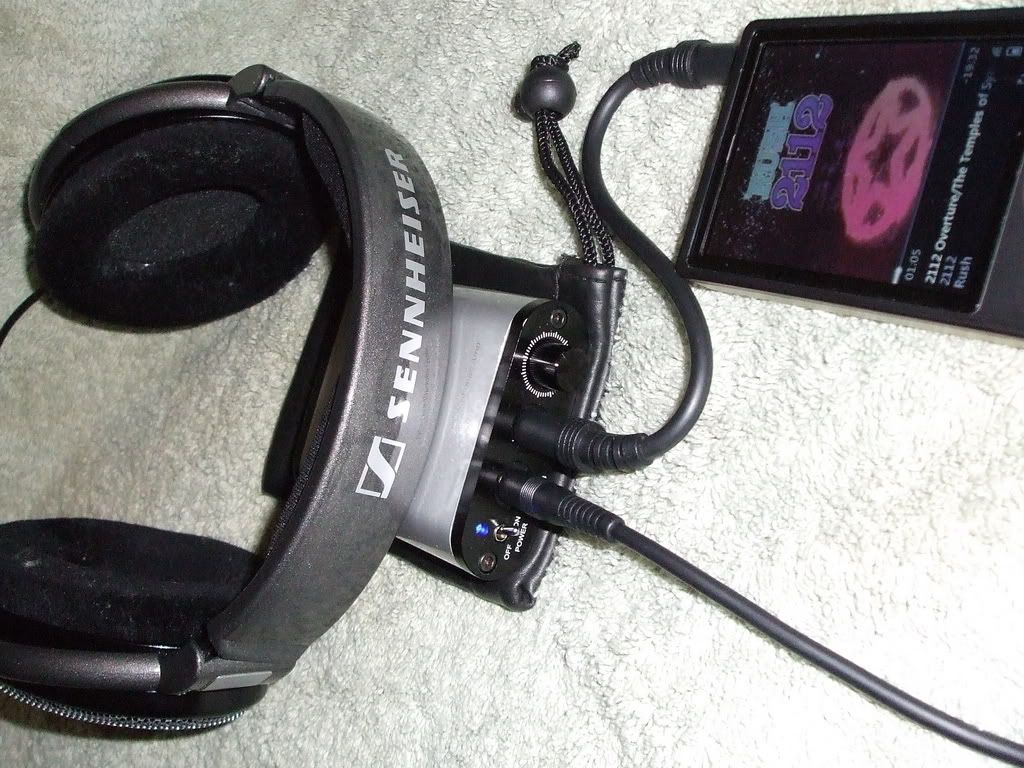 My next test was to use my desktop PC, with its X-FI sound card, optical out to my Zero DAC/Amp, then analog out to the MK1, using my HD-650s. This was a test to see if the MK1 could perform at a level high enough to be used double duty as a portable amp and as a desktop headphone amp. I switched the gain down to the lowest setting, because of the higher output of the DAC/Amp. This test really surprised me! The results were absolute proof the MK1 is a serious high quality amp in a portable wrapper. Using lossless WAV files for playback the MK1 really showed me just how it can amplify complete and detailed full spectrum sound. The amplification of the increased dynamics and cleaner signal were way beyond my expectations. There was no noise and the rich, deep and tight bass was exactly at a level equal to the rest of the spectrum. Even driven under a heavy load, the MK1 kept pumping like the load wasn't even there. This is very, very impressive! How can they pack such amplification in to such a small package and get it to last 17 hours. Wow!
The last performance test I did was completely bizarre and meant to test the MK1 under unusual circumstances. I hooked a "record out" line from my Pioneer SPEC1 pre-amp to the MK1 input and plugged in the HD-650s to the MK1. For this weird test, I hooked up the A/C power adapter to the MK1. I spooled up a reel of hard rock I made a few weeks ago on my Technics RS-1700 Reel to Reel and pressed play. I expected the MK1 to be overly bright with the nice pure analog sound, but instead, it did its job in a most favorable way. All the dynamics of the recording were there, and the overall tone was sharpened up, but not to excess. The ever present tape hiss was not accentuated by the MK1, and the bass response was excellent! Now I know for sure that anyone building a dual use system (desktop and portable use, using portable equipment) could use the MK1 as an amplifier for their headphones, at their desk or out on the street.
What negatives have I ran into during this review? Well, the volume knob is a little too slick. It forces you to grip it hard or your fingers will slip on it. The "input" and "output" mini jacks were extremely tight at the beginning of the review. They remain tight, but smoother now. For portable use, this could be a blessing in disguise. The LM4562 Opamp used in the MK1 is a very bright Opamp. For some, this will be problematic not only in taste, but in headphones as well. Little-Dot has foreseen such problems and has the LM4562 in a socket. This way, the Opamp can be changed to one that better suites the user's tastes and headphones. I apologize for not having a larger inventory of IEMs and headphones to try with the MK1. I tried the Zune stock IEMs, but they need no amplifications and are not to my liking. Budget constraints prevent me from picking up a bunch to try out on the MK1. Also, I didn't have time to try out and give impressions of different Opamps in the MK1. I only have a few and they are not suited for portable situations like the LM4562 is.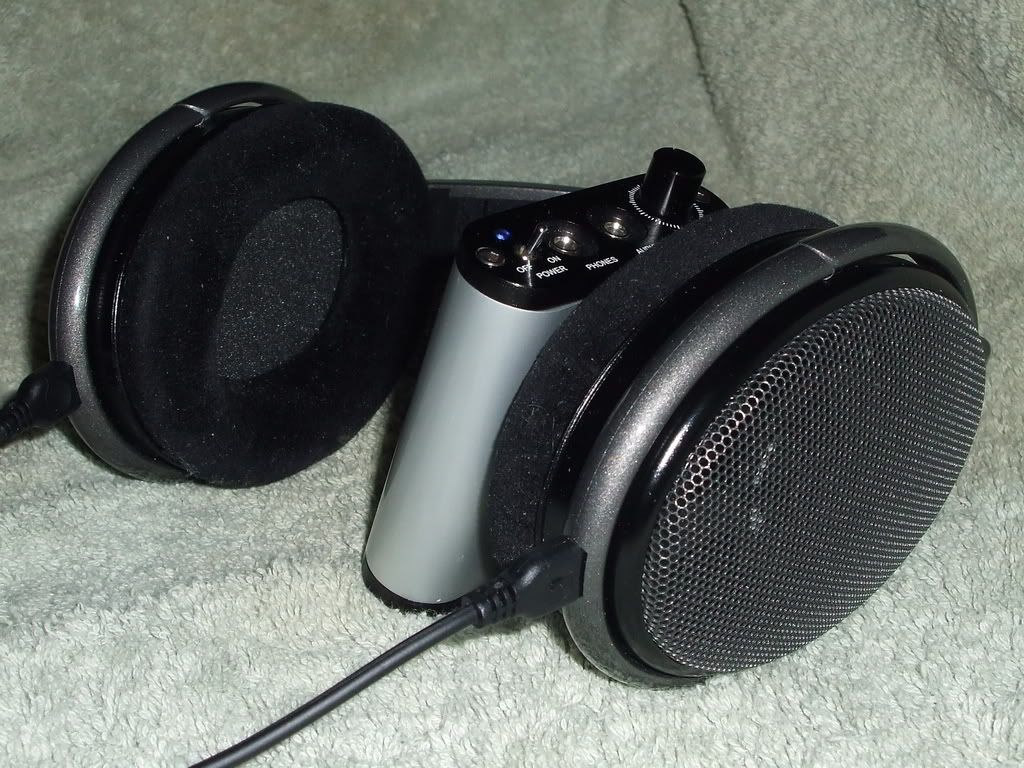 Notes and Conclusion:
As a general rule, I don't do portable audio reviews. I find the portable audio market to be full of high expectations, outstanding claims and far too many comparative reviews. It just so happened that I was in need of a portable amplifier for a specific personal use, so I started researching the market. For the sake of understanding, I'll share with you, my personal use. A few times each day, I must change locations to a different part of the house for a few hours. I usually read or use my notebook computer, but I have found myself wanting to listen to music. I wanted to be able to listen to my music in its entire splendor, which means taking my HD-650s or HD-580s with me. The first time I tried this, the need for an amplifier was immediate and obvious, so I started looking immediately. I sympathize with those who are looking for a portable amplifier. With so many possible sources and so many different IEMs and headphones, it is amazing that you can find an amplifier that is diverse enough to work well with the majority. I make no claims on how the MK1 stands against other portable amplifiers, because I don't have any to compare it with. I don't believe there is a need too either. A quality portable amplifier will show similar traits to quality desktop amplifiers and the MK1 does indeed show these similarities. I could go on for another page, with flowery words describing the sound I am hearing, but that to, is pointless. The quality and dynamics of the signal you put in, are what you get out, amplified cleanly by the MK1. Nothing is lost or distorted by the amplification. This is exactly what we should be looking for in a portable amplifier.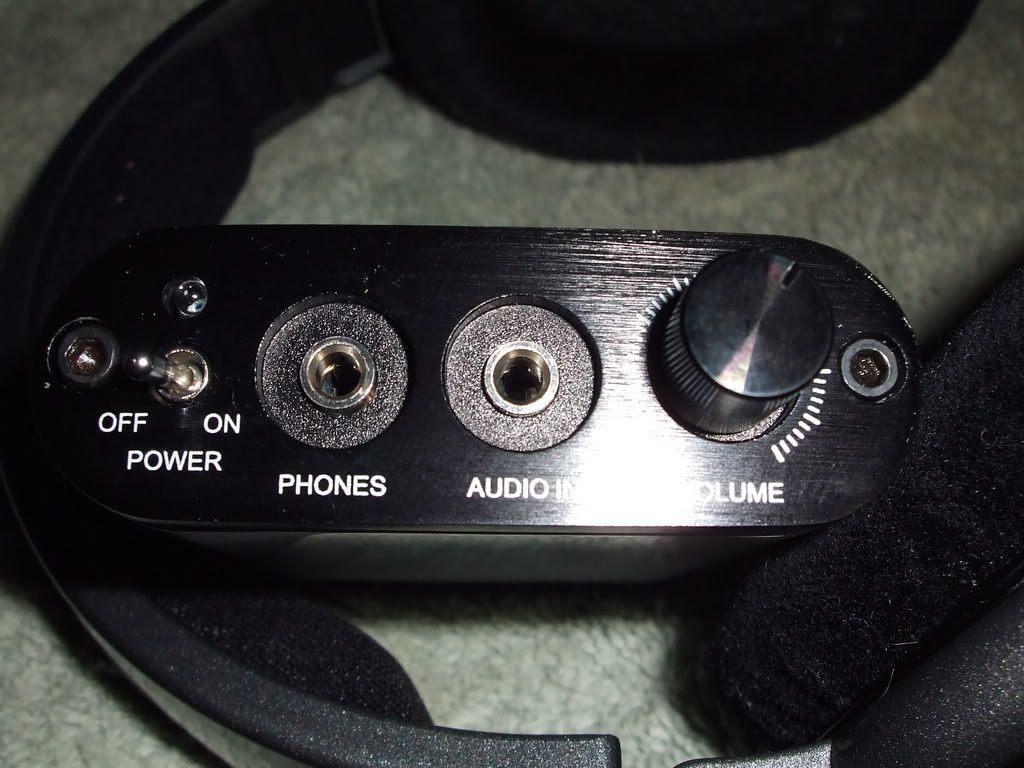 The MK1 is a winner and joins the other winners in Little-Dot's new MK series. Little-Dot is showing the world that they produce quality audio at a reasonable price and the MK1 is worth much more than the $119 eBay price.
Dave McLaughlin
MK1 owner and
Audiophile since 1977