Quote:
Originally Posted by
iQEM
@ joneeboi:
just curious, one wire go to capacitor and the other one go to ... ?! and what the capacitor that you've used looks like ?
To be painfully clear, it goes from from LOUT1 or LOUT2 to the positive lead of the capacitor and from the negative lead to the output jack's left channel. From ROUT1/2 to the positive end of the cap, then negative to the output's right channel. Ground goes to ground, but not all grounds will work. Use the poke-and-listen technique and things should go fine. Anyone step in and correct me if the P-A-L system can damage the player.
[Okay, maybe going P-A-L is pretty dumb. Just to be safe, one should try to keep the jack's ground to this area if possible. It's already a pretty busy area sitting behind the LCD screen, but I'm sure you DIYers can figure something out.
See if a big blob of solder and some wire can be applied to this portion. Both of pins 17 and 18 are the analogue supply, albeit AVDD is just cited as the analogue supply and HPVDD is the supply for R/LOUT1/2 and also MONOUT which is pin 10, but that's irrelevant. It seems as though you could easily solder a wire here. I used navships 30AWG Teflon-coated 7 strand SPC, so it was a bit easier to fit things for me. For the nano, I'm not sure how it'll work. Pictures would be great though, wgr73.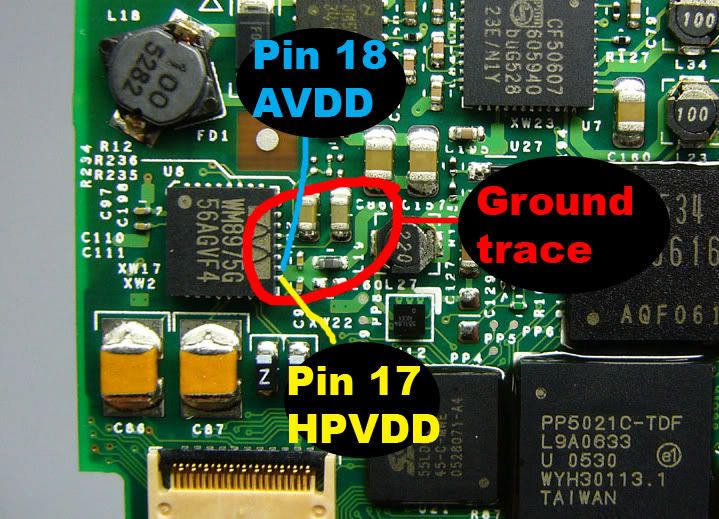 ]
[[I really shouldn't post this late at night. The ground doesn't extend as far as the red ellipse suggests. It flows out from the two pins on the WM8975, goes to the two yellow capacitors, then it hits that black bit, which I think is an inductor. Just to clarify.]]