edit: the first problem with the amp was that the voltage regulator was busted and had to be replaced
-second problem is that the volume can't be adjusted!! (see post 13)
Hey all, traded for a LD II+ (used, knowing it was broken, but fixable?!?)
Problem:
I just got it second hand and listened to it for about three hours before one of slots for the tubes died. I switched the tubes around and they all work, except when they're in that slot (the rear left) - the tube won't even light up – the result: sound only on the right channel
Possible Solution:
http://www.head-fi.org/forums/showpo...0&postcount=10
-how do I check if that's the problem in the first place before attempting to fix?
-7805 voltage regulators, can any brand be used (or doesnt matter)?
-can another type of voltage regulator be used so the problem doesnt occur again? ie: non-7805 regulators? if so which ones?
Can anyone see any other possible problems?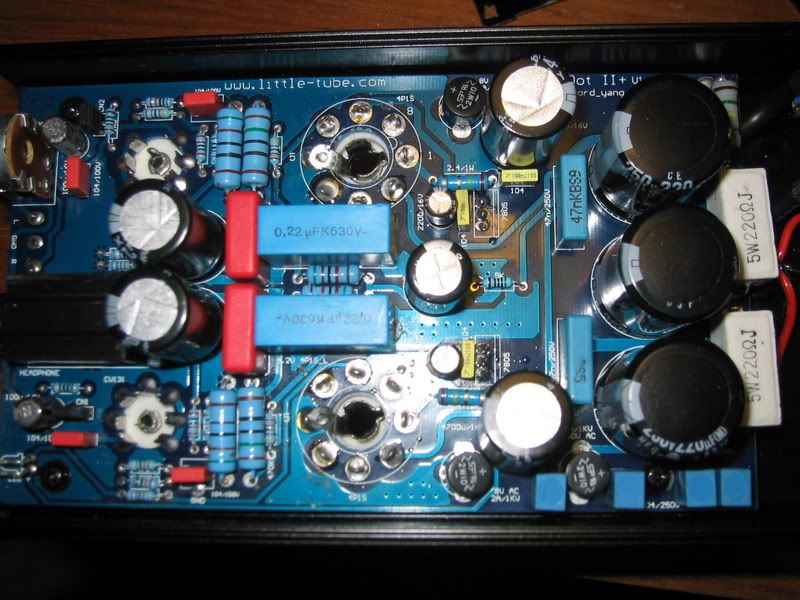 It seems the transformer is preventing it from turning over. Er, it's 2am right now, but where can one tell where the transformer wires are connected to the PCB according from the picture above?
Last question:
http://www.head-fi.org/forums/showpo...9&postcount=20
-why is it illegal not to have any fuses? sorry if it's trivial~
Thanks in advance!