Building a Bach Collection


Johann Sebastian Bach (1685-1750)

The music of Johann Sebastian Bach is of equal significance to Shakespeare's writings and da Vinci's paintings. Bach may not be your favorite composer (he's not my absolute favorite), but his music is viewed as the constant in the musical world of millions of variables. This brings me to an important question. What makes something innovative? Bach was not considered at all innovative during his lifetime. Even his own children preferred their godfather's music (Georg Philipp Telemann) to their father's. Bach was an old fashioned composer who dealt with forms that had begun to die out around the time he was born! Haydn is considered innovative because of his improvements to sonata form, the symphony and string quartet. Beethoven is considered innovative because of the incredible (and noticeable) changes he made to all the genres he tried his hand at. Wagner was considered innovative because he began the break away from tonality. Bach didn't invent anything new on the surface. But Bach is one of music's greatest innovators, because innovation to me also means being able to fine tune pre-existing forms to level which exceeds perfection. Bach accomplished things in music which were so innovative that centuries later new composers try to emulate his style, long after Haydn's, Beethoven's and Wagner's style have long since been transformed. Bach could have been a bigger star than he was during his life. He didn't write in the forms that made one a star during the early 18th Century: the Opera and the Oratorio. Handel was far more successful because of this. It would be more than fifty years after his own death before Bach would start to achieve the recognition he so rightfully deserved.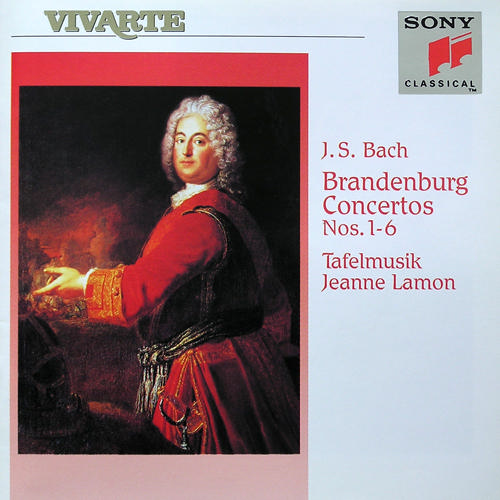 Where does one begin with building a Bach collection? I feel it's a safe bet to start with his Brandenburg Concertos. These are six short concerti for large chamber ensemble and are amongst the most discussed instrumental works ever written. While today these concertos are regarded as the greatest ensemble music of the Baroque, it is likely that the person who commissioned them, Margrave Christian Ludwig, either never heard the concerti or disliked them because the Margrave never used them. Upon his death in 1734 the Concertos were sold and transferred to archives of Brandenburg where they were discovered almost a hundred years later and received the title "the Brandenburg Concertos". There is an abundance of recordings of this work, but I feel that it is best to hear it played on instruments from the Baroque period. Of the numerous period performances, my absolute favorite is by a Canadian-based ensemble called Tafelmusik.



Bach was strong with every medium he composed in. But perhaps his greatest strength lied in his keyboard writing. In modern times all the music he wrote for harpsichord has been transferred to the generally more preferred piano. But it is still desirable to hear Bach's keyboard music performed on the instrument it was intended for. The best starting point for building a collection of Bach's keyboard music is his two books of preludes and fugues called the Well-Tempered Clavier. These two books explore every key both major and minor. The Well-Tempered Clavier has been called the Old Testament of keyboard music because of its significance and greatness. These two books take up four CDs in total. I'm going to recommend a version for piano and a version for harpsichord as well and suggest if you are brand new to Bach to start with the piano version and come to the harpsichord version at a later date. But don't assume because you've heard it on piano that it has the same effect when played on harpsichord. Angela Hewitt released a phenomenal recording of this piece for Hyperion, though it is two separate double CDs and is quite expensive. Try Book One first if you're on a limited budget. For an excellent harpsichord interpretation try Kenneth Gilbert's on Archive. If you have a sensitive ear you will notice that the key of each piece when played on piano is significantly higher in pitch. This is because in Bach's time there was a standard tuning was much lower in pitch. During the 19th Century this practice of lower pitch would eventually reach what we today consider normal pitch which is the note A at 440-442 cycles per second.



Much of Bach's music was not written for commission, but for his very own personal fulfillment. The greatest example of this is Mass in B Minor. This is one of the last pieces the composer was to complete and it is arguably the greatest piece of music ever written for the combination of voice and orchestra. One of the most interesting aspects of this work is that Bach, a devout Lutheran, was compelled by pure musical inspiration to do his own setting to the Catholic Mass, continuing in the tradition begun centuries prior by Guillaume de Machaut. Conductor John Eliot Gardiner is extremely gifted with Bach's choral music. His Mass in B Minor release is one of the highlights of the entire catalog!



It's time to return to Bach's keyboard music. In 1741 Bach composed a set of thirty variations on a rather simple but beautiful theme. He was commissioned handsomely for this work. It later became known as the Goldberg Variations, named after the very young harpsichordist who supposedly performed it to the Count who commissioned it. The story behind the work is actually funny: Count Keyserkingk was an insomniac who commissioned Bach to write music to entertain him during the midnight hours and eventually calm him to sleep. The result is one of the composer's complex and ingenious works. Today it is still widely regarded as the greatest set of variations ever written. It is the Bach piece which I personally listen to most. Glenn Gould has long been championed as the great Goldberg pianist. However, I don't share this view and find his whole approach to Bach to be eccentric in spots where it doesn't need to be. For a great piano recording of the Goldbergs I listen to Murray Perhaia's on Sony. I find it totally fulfilling and not overly pianistic, but still quite different from the harpsichord version which I often prefer. My favorite version of this piece on its intended instrument is Pierre Hantai's first recording of it for Opus 111 record. You will never hear a more realized performance of a Bach work than Hantai's.



The next piece I recommend is Bach's very famous Orchestral Suites. He composed four of them and the third includes the most famous instrumental work he ever wrote (the famous Air on the G String). Each suite is a collection of dances, but you would never know that this was intended as dance music as it is entirely fulfilling as just listening music. Christopher Hogwood recorded an excellent version of these pieces with the Academy of Ancient Music.



The majority of Bach's music has religion as its inspiration, not only because of his own personal faith, but also because his occupation was Kapellmeister (master of the chapel). He was assigned to write a different piece of music every week for this job. These works were musical settings of texts from the Bible. He composed more than two hundred of these works and history now labels them with the name Cantata (meaning "to be sung"). Bach took some of his best material from these Cantatas, as well as some brand new material and put together what is called a Passion. One Passion in particular stands out as one of Bach's finest achievements. It is known as St Matthew Passion and was completed while Bach was still in his thirties. The 19th Century viewed this piece as Bach's greatest work. Felix Mendelssohn was the first to conduct the Passion after it had disappeared from performance for nearly a century. Philippe Herreweghe released a recording a few years ago that astounded me both interpretatively and sonically. This is the best I have heard of over a dozen recordings of the work.



Bach was a brilliant composer for the solo instrument as I've already pointed out with regards to the harpsichord. But that is just one of the solo instruments he wrote for. Some his greatest achievements of this kind were for the violin and the cello. Many composers have attempted since to write for these instruments in an unaccompanied setting (Paganini, Bartok, and Britten come to mind) but none of these composers reach the level of depth Bach achieved. Bach's solo violin music has been studied for years as some of the greatest fugal writing ever. To write a fugue for an essentially monophonic instrument (an instrument which plays one note at a time – no chords) is an incredible task. Just to clarify, a fugue is a piece of music which begins as a monophonic theme; this monophonic theme is overlapped by the same theme in a different key; then these two themes which are playing simultaneously is once again overlapped by the same theme now in another key and so on. It is also worth mentioning that these themes generally don't overlap rhythmically, meaning that each of the presented themes is equally important. This technique is one of most advanced in music and is difficult enough to compose for a polyphonic instrument; imagine composing in this style for an instrument which is usually limited to one note at a time. The Suites for Solo Cello, while not containing any fugues, are extremely enjoyable and regarded as some of the best writing for cello to this day. For the violin works I enjoy Rachel Podger who employs a Baroque technique and uses an 18th Century violin. For the Cello Suites there is no better recording than Anner Bylsma's. He recorded the Suites two times, but it is his second (recorded digitally instead of analog) which is even better played and sonically more thrilling.



What is chamber music? Obviously a string quartet is chamber music by today's standards. Even an octet or a nonet is considered chamber music. How this matter is really determined is not so much by the size of the ensemble, but by the intentions of the composer. If the composer wrote the piece to be played in an intimate room then we call it chamber music referring to the word chamber as room (room music). The Brandenburg Concertos is an example of chamber music which in modern times has become part of the orchestral repertoire so it is very difficult to think of them as true chamber music. If we disregard the Brandenburgs as chamber music, then Bach's finest chamber piece is known as A Musical Offering. It is one of the last works he ever wrote, completed in 1747. It was written for King Frederick II of Prussia. Coincidentally it was during this time that Bach tried out the very new and experimental instrument: the pianoforte. He hated it. Just thought I'd throw that in. This work is very fun and filled with musical riddles up the wazoo. I really enjoy Jordi Savall's recording of it with Le Concert de Nations.



It is possible that the one Bach piece you grew up loving more than any other (the scary D Minor Toccata for Organ that is played in nearly every Halloween commercial) is not a Bach composition, but instead a piece wrong attributed to Bach for centuries. Musicologist have been debating this recently as they find the piece to be dissimilar to Bach's typical organ style. It is even suspect that the work was written prior to the composer's birth. Either way it is still a fun listen and is a great introduction to the massive amount of organ music that Bach composed. Try Karl Richter's three-CD sample of some of Bach's greatest music for organ.



Much of Bach's writing for harpsichord was a series of dance suites. Without delving into too much detail about them, they are thought to be three different sets of six, all three in a separate style: French, English and Italian. They are known as the English Suites, French Suites, and Partitas. There is also an Italian concerto for solo harpsichord and an Overture in the French style for solo harpsichord. The titles are essentially bogus because, with the exception of the French Overture, they all follow the Italian tradition. All this music is worth owning as it is definitely some of the finest keyboard music ever composed. My favorite of the three groups are the Partitas, which coincidentally were last of the three to be composed. Try Angela Hewitt's excellent recording for a piano version, or Trevor Pinnock's equally well-played recording for harpsichord. Pinnock's recording also includes a very good interpretation of the Goldberg Variations, the French Overture and the Italian Concerto!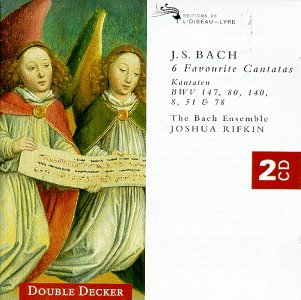 It would wrong of me to call this beginner's guide complete without recommending a CD of Bach Cantatas. For a more in depth view as to what Cantatas are please refer to a few paragraphs earlier (the St Matthew Passion). One of Bach's most celebrated Cantatas is his "Ein feste Burg ist unser Gott" (A Mighty Fortress is Our God). Decca released a very good overview of Bach's Cantatas in double CD set performed by Joshua Rifkin and the Bach Ensemble.



The last piece I am going to recommend is the very last work Bach composed; a work he did not get the chance to complete. It is called The Art of Fugue. This piece, a study of fugal writing, was begun in the last decade of the composer's life but he was still working on it while nearly blind and on his death bed. It is extremely advanced and academic music. In addition it was not assigned a particular instrument, which leads musicologists to believe it to be a personal study rather than a performance work. Even still, the Art of Fugue makes for a very interesting listen and can be performed in variety of settings including piano, organ, string quartet, chamber, and orchestral. The best recording I have ever heard of this work is by Jordi Savall and Le Concert de Nations. Savall is really tremendous with most Baroque music.

What is Baroque Music? And Why is Bach its Pivotal Figure?
The Baroque is a huge period in the arts which ranges approximately 150 years (1600-1750). It is the first era where music for instruments was actually written down and notated. Writing for instruments was a slowly developing process. Not all of the modern clefs had been invented yet. Dynamic markings were a new idea even into the end of the Baroque. In fact, none of Bach's music is written with dynamic markings. Understanding and identifying Baroque music is best learned through just plain listening. The sonata form was not invented until the tail end of the Baroque. When you see the word sonata applied to a piece by Bach or Scarlatti or any Baroque composer it does not mean to imply a piece in sonata form, but rather just a piece of music (Sonata – "to sound"). But what does Baroque really mean? To be honest, the name Baroque was attached to the era during the late 18th Century in an attempt to separate their modern selves from their inferior past. The term Baroque originally meant extravagant and overly decorated. In some cases it still means this, but it is almost solely because of Johann Sebastian Bach that Baroque music is not seen as a preliminary event to later music. This is not to say composers such as Jean-Philippe Rameau, Georg Frideric Handel, Antonio Vivaldi and others don't have extreme merit; they composed some of the finest music ever. But had it not been for the music of J.S. Bach, the Baroque would have likely been dismissed as inferior to the Classical and Romantic. Bach's music exemplifies humankind's greatest ingenuity and most thoughtful realizations. It is my guess that Bach's music will be listened to for more centuries than any other composer's. My reason for this is that while music will always change and reinvent itself, Bach's music more than any other composer's demonstrates the perfection of a specific milieu. What I find most interesting is that when NASA decided to send into space what they thought would show extra-terrestrials the musical potential of the human mind they chose Bach's Well-Tempered Clavier. This means to me, that while science has advanced mountains in the past three centuries, music found its highest prophet long ago in Johann Sebastian Bach.

Enjoy the music!

Dave
Edited by DavidMahler - 8/6/11 at 10:06am