As promised my head to head review for all of those out there looking for an "entry level" IEM to suit their needs. As some of you may know, I've done a review on the SF3 before, but now I will be comparing them to the Etymotic ER-6i's. I will break this review down into 3 parts; Sound Quality, Comfort/Durability, and Value. Warning some pictures are good and some aren't the best, not the best camera.
First I will introduce the two headphones: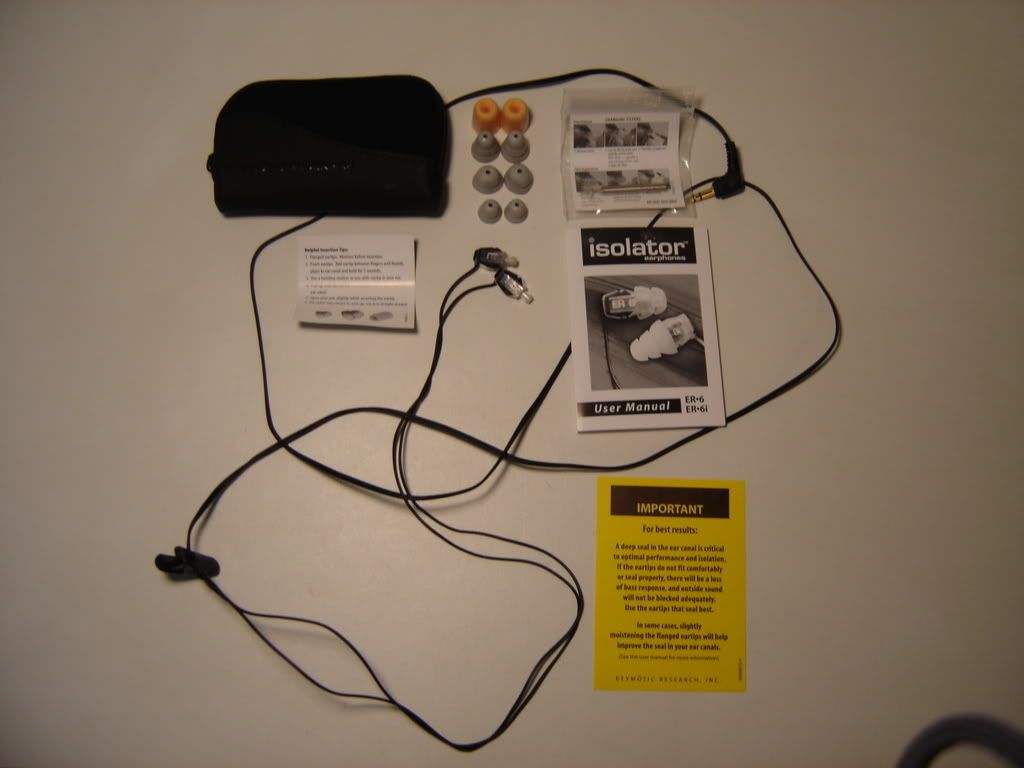 Etymotic ER-6i (black)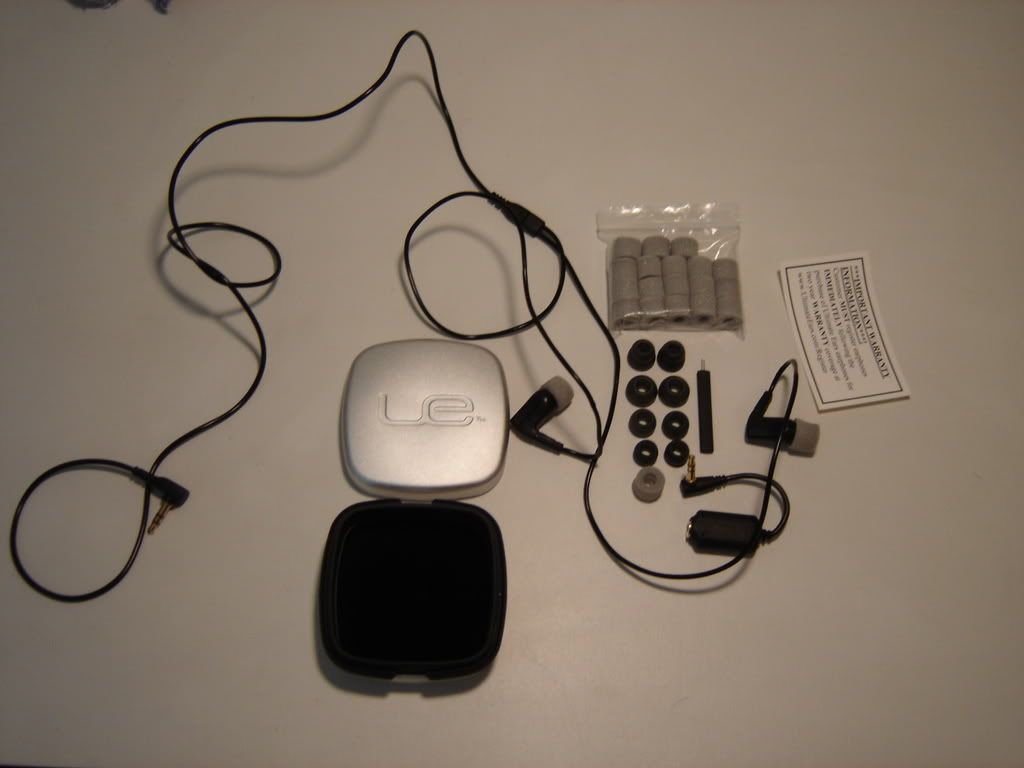 Ultimate Ears Super.fi 3 Studio (black)Sound Quality
First and foremost, most of you may believe, and I did too at some point, that armature drivers still need burn in, but they don't. Fact of the matter is that you just get used to the sound over time. You may need a couple hours just to loosen up the drivers as they have been in the packaging for a while, but that's really just all there is to it. My setup consists of a 30GB 5.5G iPod Video playing 256MBPS CBR AAC's on the Rock EQ. The music genres that I prefer is mainly, Alternative Rock/Indie to Screamo and Metal. The CD's I tested were produced professionally, so there will be no trouble distinguishing why one song might sound bad and another sounding fantastic. The main 4 CD's I tested were and not limited to: Chiodos - All's Well That Ends Well(Piano/Violin); Drop Dead, Gorgeous - In Vogue(Many highs because of riffs and lots of cymbal work); The Fall of Troy - Manipulator(fantastic bass lines); And one of my most notable favorites: Norma Jean - O' God, The Aftermath(Changes of pace more than twice during a song). I won't base my ratings on sound quality just off of these CD's, but Each one of these CD's has a strong point as stated beside the names in parenthisis.
ER-6i's
Highs are very present, I use the foamies that were included, and they produce more bass and less harshness that way. With the Tri-flanges, I can definitely hear a little bit of harshness, but not enough to drive me crazy, not fatiguing in my opinion, at all. Although the bass isn't as impactful as with the Super.fi 3's, it's clearer and it's precise, so in my opinion makes it much better. Since I use the Rock EQ, vocals aren't made so straightforward, that's probably some of the reason that it's not so harsh for me. These are actually enjoyable even on a Flat EQ, as the Super.fi 3's aren't, in my opinion. Mids and lows on the Ety's, in my opinion are better than the Super.fi 3's because of the better detail; this comes in handy when I listen to metal or screamo and like to hear low end detail. Overall
I
think the Ety's strong points are Metal/Screamo & Alternative Indie/Rock.
Super.fi 3 Studio's
My favorite thing about the Super.fi's are that they do a fantastic job at acoustic music such as Brand New's select songs and Bayside's Acoustic S/T CD. I don't need as much detail or bass for acoustic, so the Super.fi 3's are definitely my first choice for that type of music hands down. The highs are really good on the Super.fi's, but even though the Ety's are better, highs and bass is boosted when acoustic songs are made, which is where Ety's really can be harsh. Mids are good on the Super.fi 3's, but the low end seems to not be represented as well as the Ety's, to me.
My overall choice on Sound Quality are the Etymotic ER-6i's.
Comfort/Durability
For both sets of IEM's I use the foamies, you will notice in the picture of the UE's that there are a bag of foamies, they
DO NOT
come with those. One of my foamies ripped and I emailed them and they sent me a free 5-pair pack of foamies (UE gets extra points for that).
ER-6i's
The foamies on the ER-6i's are as big as the body of the IEM itself. At first they caused an uncomfortable pressure, but I let my ears adjust and it gave me a superb and super comfortable fit and seal. The Ety's do have thin cords, but they seem sturdy and well manufactured.
As you can see, the foamies are as big as the body.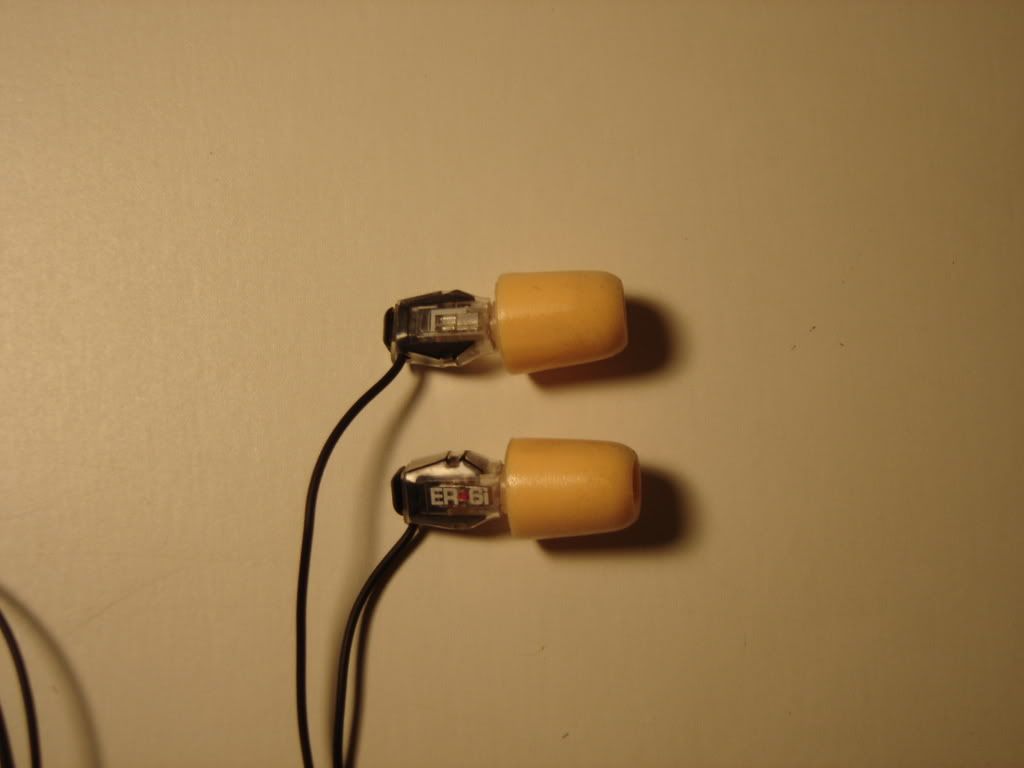 Ety's with the foamies on them.
Super.fi 3 Studio's
As far as the foamies on the Super.fi's the Ety's win, but the Single and Double-Flanged silicone tips win for the Super.fi's. The cords on the Super.fi's are thick and very sturdy, and are detachable/user replacable. The cables loop over the back of your ears making them more stable, but can be probable with users that wear glasses, such as I.
Overall, the Super.fi 3's win the durability contest, but the Ety's, in my opinion win the comfort contest.
Picture of Super.fi 3's with glasses.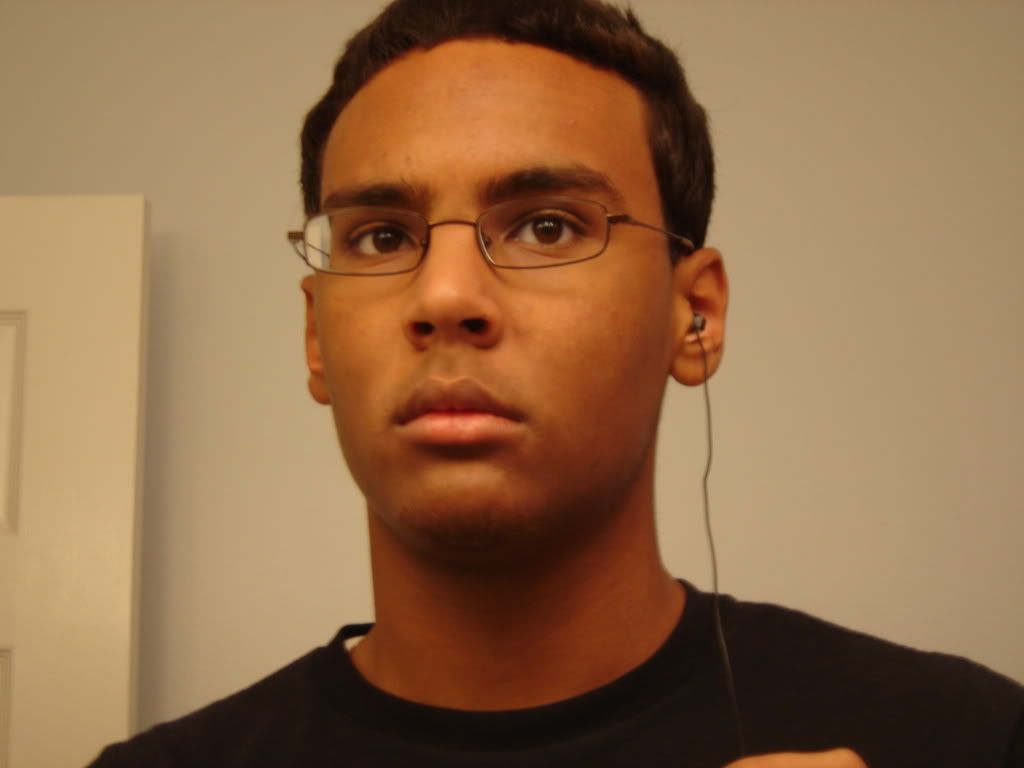 Picture of the ER-6i's with glasses. (Of course this doesn't matter because they don't go over the ears. And sorry I'm not the best looking person, couldn't get my girlfriend to model them
, she's sick)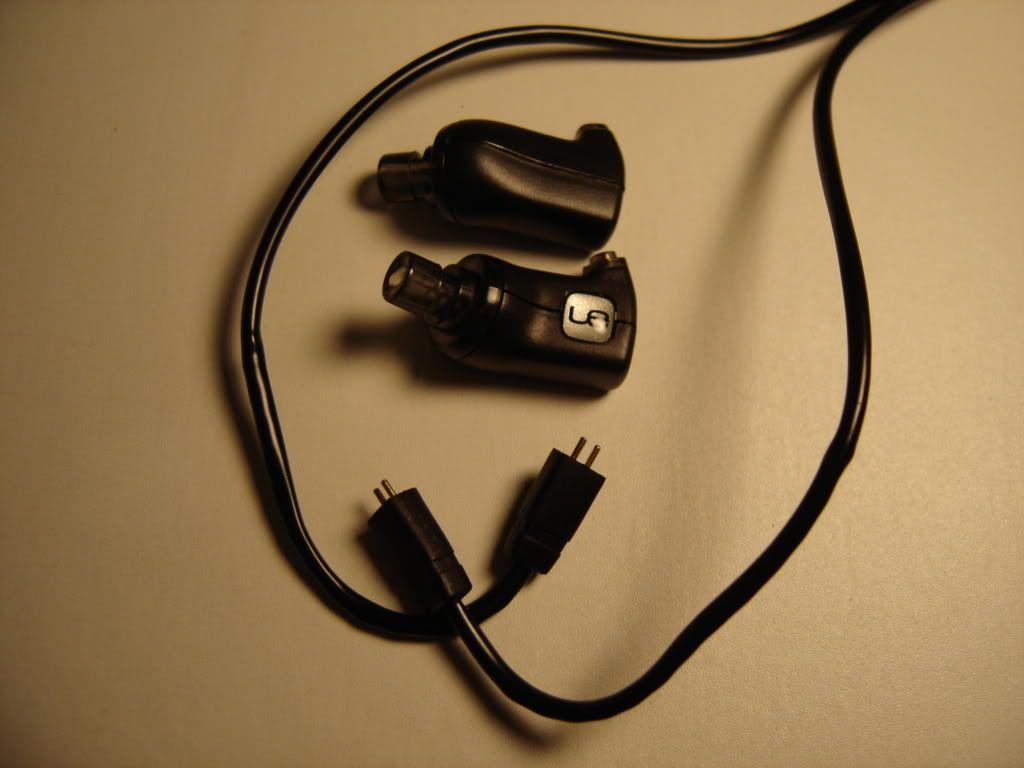 The detachable cables from the Super.fi 3's.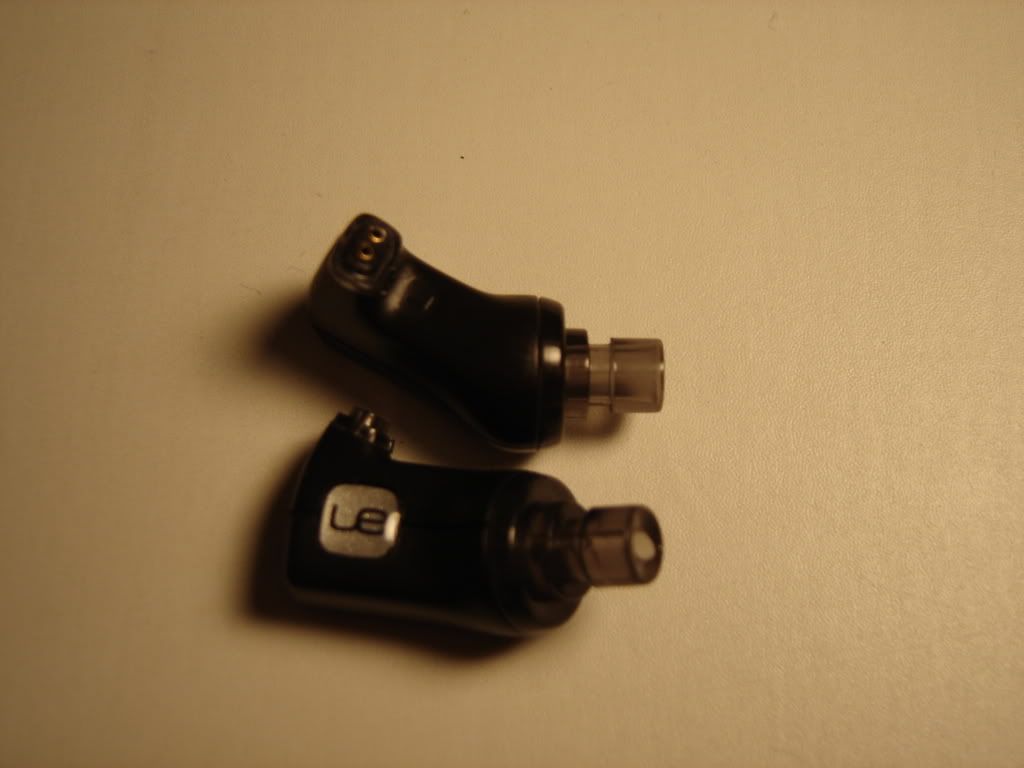 The bodies of the Super.fi 3's.
Value
The Ety's (model# ER-6i BLK-C) comes with Tri-flange tips, Large and Small Double-Flange tips, and a pair of foamies. They also come with 1 pair of replacable filters and a tool made especially for it, a soft, zippered carrying pouch (texture reminds me of the iPod Videos felt sleeve, the one included), and of course, an instruction booklet for the ER-6i's and the ER-6's? (lazy etymotic). One-Year warranty for the Ety's. As for the Super.fi 3's, UE includes one pair each of S,M, and L single-flange tips, a pair M/L double-flange tips, and a pair of foam tips. They also give you a very sturdy, yet bulky, metallic carrying case, a cleaning tool, and a sound attenuator. Two-Year warranty for the UE's. Overall as far as value I say the UE's win.
Conclusion
Even though the UE's have a Two-Year warranty rather than just one like the Ety's, and they are sturdier, I still consider the ER-6i's the winner. I say this because I'm not going to be doing anything drastic with either one to really break these, so sound quality is my primary goal. If you're looking for more durability, UE is the way to go, but if you want better SQ, the Ety's have it.
Some left over/extra pics:Ety extras;
Extra pair of inluded filters and tool.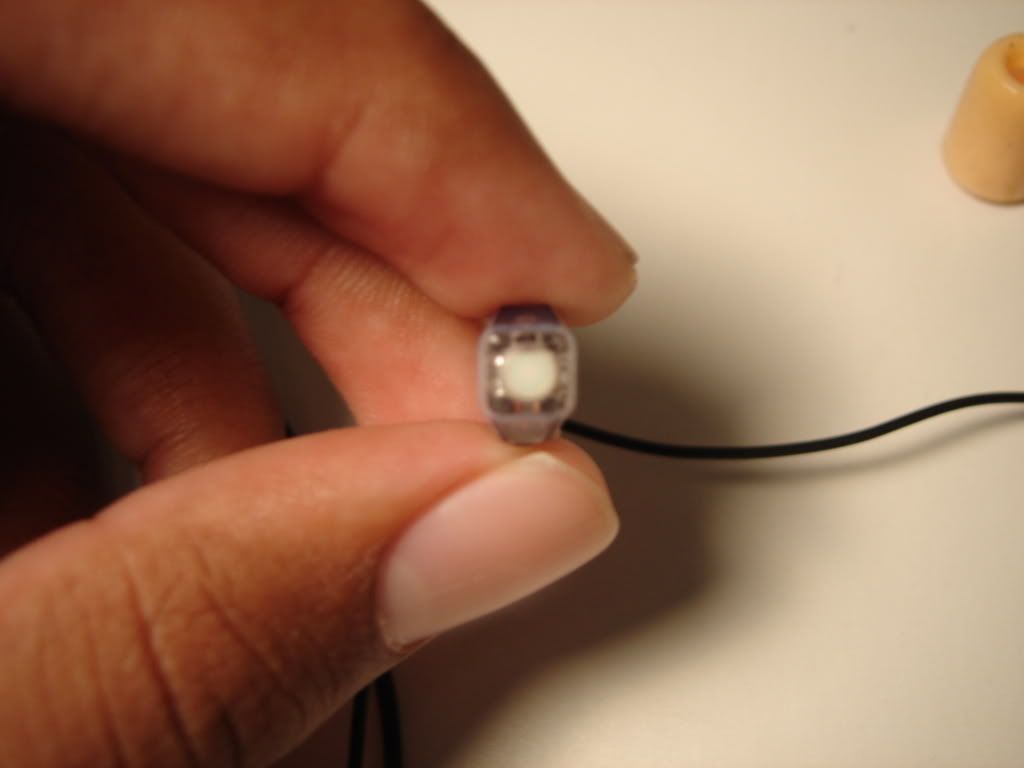 Picture of filters in the Ety's
See how small they are?
Picture of case. It has a section that's velcro-ed off to store extra tips or whatever.
UE extras;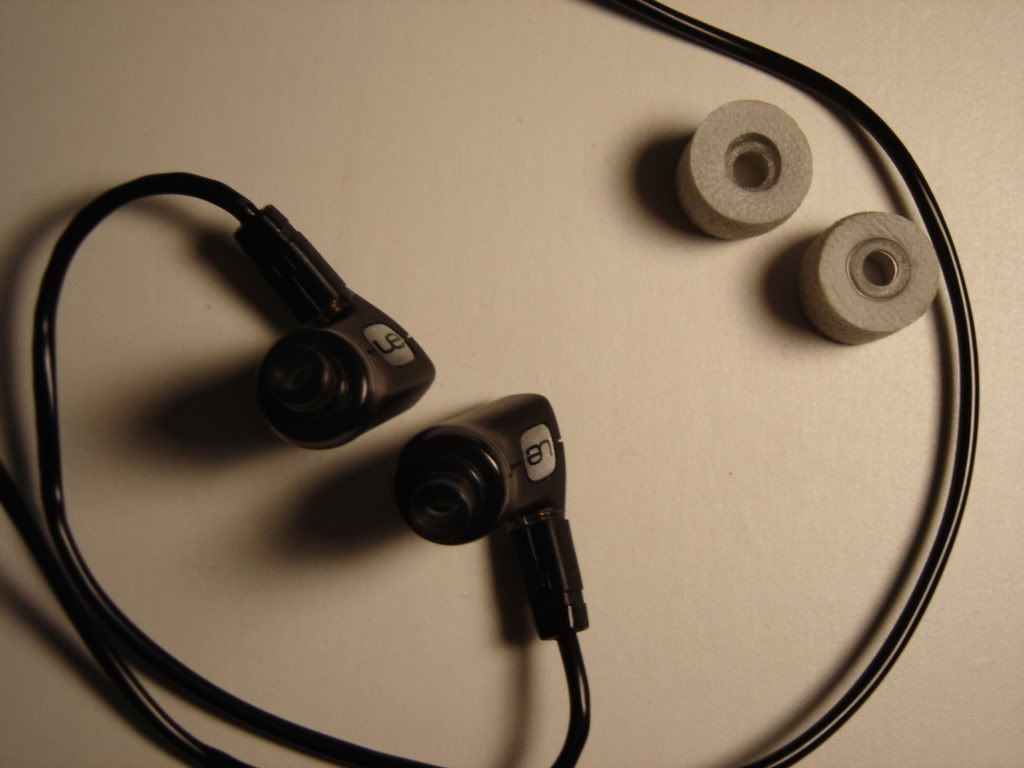 Picture of oval-shaped UE nozzles.
The sturdy 3.5mm connection.
Picture of the UE's in their sturdy carrying case.
If you guys have questions or comments, just post in here and I'll answer them as soon as possible.