Intro
Not too long ago, I ordered up another AE-2, on top of the one I'd previously ordered in February this year, for two reasons: (1) I didn't entirely like the first one's gold volume knob, and (2) I didn't like the red LEDs that much either. So when I ordered up the second one, I asked for it in entirely black, and if the LED color could be customized. Well as the picture below shows, the color of the LEDs can indeed be customized. I went with green because I thought it would be cool to have an AE-2 that resembles the AE-1 of yore!
And since this gave me the opportunity to own two AE-2s simultaneously, I thought I would write up a comparison between the two that addresses the ever controversial issue of burn-in!
Serial numbers of the two AE-2s: #24 (ordered Feb '07), #103 (ordered June '07). #24 had over 300 hours applied to it before it left me for Loaner #6 (link in signature), and thus 400+ hours when it came back to me on 8/24/07. #103 arrived on 8/25/07 with zero hours and started from there.
All CD tracks were played on #24 first, and then on #103 immediately afterwards.
Equipment Used
Source: Arcam FMJ CD33
Power cord: Signal Cable Silver Res Reference
Interconnects: Signal Cable Silver Res Analog w/ Eichmann silver bullets
Headphones: AKG K701 w/ Equinox, Audio-Technica ATH-AD2000 w/ APureSound
Pic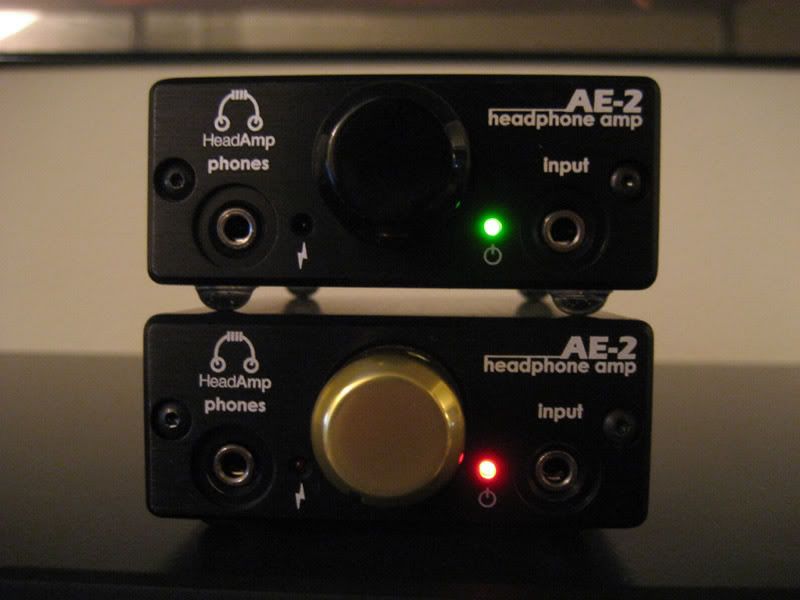 Comparisons
- Alison Krauss - Lonely Runs Both Ways - "Goodbye Is All We Have" (with K701)
This track has quickly become one of my references for soundstage and layer presentation. Immediate impressions of #103 were that it had a less fluid sound with soundstage placement completely different than #24 - not as in front, too much to the side. There was more air expansion, and less body to the sound.
- Eva Cassidy - Songbird - "Over the Rainbow" (with K701)
Less power and presence to Cassidy's voice on #103. Not presented as forward & intimate as on #24. Left/right dimension of soundstage also a bit smaller - less dimensionality. Also less crispness on the guitar notes throughout.
- Howard Shore - Lord of the Rings: Return of the King [OST] - "Ash and Smoke" (with K701)
Soundstage very oriented towards the left and right sides on #103, whereas #24 is integrated with the center. Again, not much dimensionality on #103. Less violin/strings presence on #103 as well.
- KT Tunstall - Eye to the Telescope - "Other Side of the World" (with AD2000)
Noticeably slow attack on some of the guitar runs on #103 - mashes, not clear and crisp. Very little difference otherwise, only noticeable part was a reduction in some ambience.
- Massive Attack - Mezzanine - "Black Milk" (with AD2000)
No doubt about it, #103 misses that last bit of bass extension on the rhythmic pulse of this track. Not as weighted either, as it exudes less power.
- Neotropic - Mr. Brubaker's Strawberry Alarm Clock - "Gutted" (with K701)
This track is one of my references for its overload of high-frequency layers simultaneous with undercurrent bass and spontaneous noises throughout. #103 wasn't as quick to recover from the spontaneity of the digital effects that pervade the track and instead came across as sluggish. Bass didn't reach as viscerally low either for that undercurrent feel. #103 didn't retrieve quite as much high-frequency detail either - a tiny part of it lost due to some recession. Also a lack of ease in letting the effects pass from one channel to the other.
- Porcupine Tree - In Absentia - "3" (with K701)
Less dynamics to the music on #103, not as hard-hitting. Impacts not as swift & hard either, and it has the sense of fatigue rather than energy. A more metallic sound to the guitars as well, and also less fleshed out with body and fullness.
Conclusion
Well there you go. #103 turned out to be several steps behind #24. I wasn't surprised by the results, though I do admit I was expecting more of a difference considering my burn-in progress reports on the previous AE-2 thread that I updated. So burn-in may not be such a huge factor on the AE-2 at all. YMMV.