Okay, so my new IEM's have arrived. After some fairly extensive listen-in (I am not calling it burn-in, as I am still not entirely sure I believe in it) I have some thoughts on their sound, and I thought it was about time I put finger to keyboard and wrote something about it.
This
may
not be a Duggeh epic, but I do hope to try and give a bit of background to my review, as I enjoyed doing for my k1000 review (see sig.). My last listening history (contained in that review) concentrated on my gear-history for home cans. This, although useful in understanding my point of view, tells you very little about my portable journey, and so it's probably worth just setting this down as a standpoint.

THE JOURNEY:
It started, in pre head-fi days, with some Sennheiser MX500's. Solid little beasts, and I believe I still have them somewhere. My immediate trigger to arriving at head-fi was my purchase of the B&O A8. I am not
particularly
ashamed to say that I bought it largely on visuals alone, as it's a visually stunning beast, but I also thought the sound was pretty decent, in the right circumstances. Unfortunately for me, and my wallet, those circumstances (in my experience) seem to be quiet rooms, and not in outside settings. Enter head-fi...
The next jump was to IEM's, and the e2c. My sister wanted headphone advice, and I looked to the boards here. She got some new toys, and on hearing hers, I had my own pair a few short days later, and they served me well for some while. I experimented with the hd201, and the KSC75 (which was for a while my only portable pair) but the next big change came when I realised I wasn't listening to my RS-1 enough at home. A quick sale, and some shopping later, and the majestic Grado woody had become a portable rig. At this time, I looked into customs. Specifically the UE5c. I was sorely tempted, massively so. I was close enough to getting a pair that I even had some impressions made. But, in the end, I was spared some heartache. On hearing a pair of e5c at a head-fi meet, I realised that the rest of my rig wasn't up to scratch, and I was going to need a source (and probably amp) upgrade if I was to enjoy the music, and not the hiss and CPU noise from my DAP.
Instead of the ultimate ears, I picked up a second hand iPod photo (60 GB of music fun), and some e5c. My humble Cmoy was tweaked to unity gain, and is now acting as a buffer, rather than a true "amplifier", and my portable rig was absolutely fantastic for some while. The synergy in the system was excellent, with the slightly bass-heavy Shures being tamed very well by the slightly bass-light amplification, and all was well with the world. Yes, I played around with getting a PA2V2, and yes, I used my KSC75's a bit, but I was fairly settled with my Shures. That is, until one of them died.
The left-hand driver started making the sort of noises one might expect the morning after a particularly hot chilli cook-off, and I sent them back to Shure for a repair. It was while they were in for replacement (as it turned out, not repair) that I realised I was going to be presented with a brand new pair of earphones, which would be far more saleable than a used pair (especially IEM's). I therefore hunted around for other possible new toys to play with. Enter
Livewires
.
A true dual driver custom IEM, for a third of the cost of competitors? Hmmm... This was too tempting to pass up. I sold my e5c to a friend, and that pretty much covered the cost of the livewires. This was rather pleasing. I could finally go down the custom route I had lusted after.
THE PROCESS:
The impressions process turned out to be slightly tricky, but only with regards to finding an audiologist. I eventually managed to find a
Specsavers Hearcare
centre that was relatively local and willing to help, and I headed down there. The audiologist was a pretty cool guy. He did his corporate bit of trying to sell me their own products, but head-fi questions such as "how do they compare to the offerings from any of the other big custom monitor manufacturers, such as Ultimate Ears, Westone, or Sensaphonics?" soon made him realise I had done quite a bit of research, and wasn't going to be swayed to another product.
In the end, he asked me if I would come back to him when they arrived, as he was quite interested in seeing how they turned out, having not seen any from that company before. The actual impressions-taking process wasn't any different to how it has been described before, I sat still and blue goo was fed into my ears, which then set. Not much to it, really. I packed up my little blue bundles of joy for their little holiday across the pond, placed my order with TTVJ, and I was away.
The wait for them was fairly long and arduous. Being a new company, the demand for Livewires seems to be increasing rather fast, and their turnaround time is somewhat increased. Add to that some international shipping delay on either end, and I was sitting contemplating my lowly KSC75's for some considerable while.
But lo... they did arrive. After a trip down to the local post-office to pay the customs on my customs, I finally had them in my grasp. I was restrained, and waited until I got home for the grand opening.
FIRST STEPS:
Straight out of the box, my first impressions were fairly unfavourable. I know the company is pretty new, but the "box-experience" is pretty lacking, and is definitely something to improve on in the future. The contents were a pair of bubble-wrapped parcels. One with the shells, and one with the cable and cleaning tool. This packaging was functional, and perfectly fine as protection for the pieces. There was also a little leaflet, which seemed to have a split personality. Some parts looked like advertising, and others were the usage instructions. I don't know, maybe I'm just poking holes, but the out-of-box-experience is important to me, and this was a fairly weak one.
Certainly
something to improve on in the future.
Having never had customs before, I was apprehensive. Having read a few horror stories about having to send the impressions back and forth several times to get a good fit, I have been pretty lucky. On first attempt, very gentle persuasion was all required for them to pop straight into place, and the comfort and isolation were immediately excellent. Not quite as isolating as the e5c with triple flanges, but orders of magnitude more comfortable! The seal is then perfect until I smile, and move my jaw. Unfortunately in this regard, smiling was something that was going to feature quite heavily in my listening time.

CONSTRUCTION AND FIT:
Before I get to the sound, I should say a bit about the construction of these (plus provide some pictures, to satisfy you baying hordes. They start off with an acrylic shell, which contains the two drivers. Each of these drivers has it's own sound tube, with it's own opening into the ear canal, so the sound isn't mixed until it hits your ears. Whilst I presume there must be a crossover somewhere, I couldn't see it... Embedded also into the shell is a little strip with your name and a (presumably) unique number identifier. This shell can be in various colours, and I am told the range is increasing all the time. On top of that is the faceplate, which at present is only available in a sort of dodgy flesh tone and black. I chose black, with a clear red inside for the right, and a clear blue inside for the left.
The livewires themselves
Closeup of the left...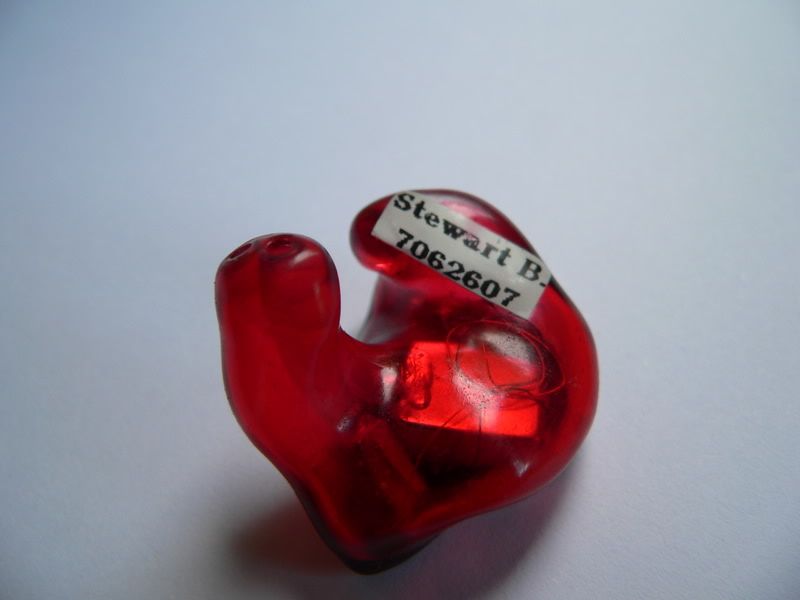 And the right...
The cable-attachment point, and connector.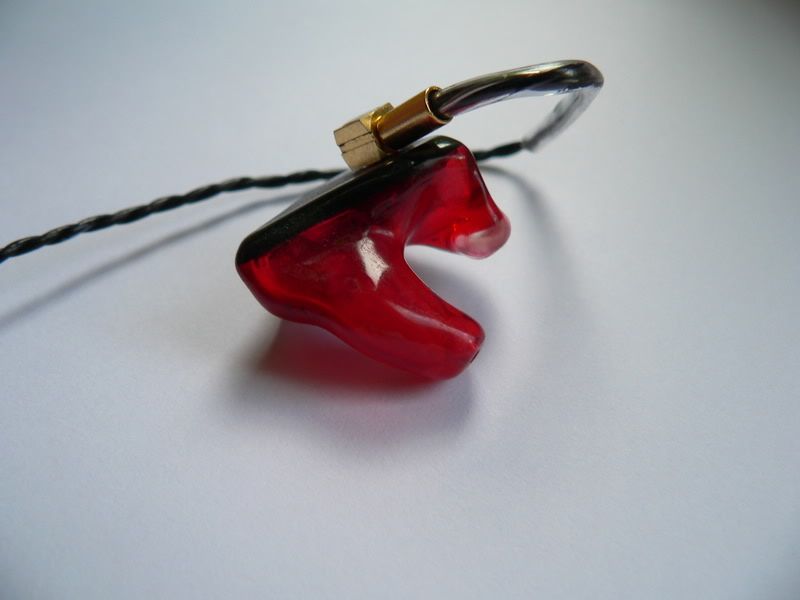 In profile.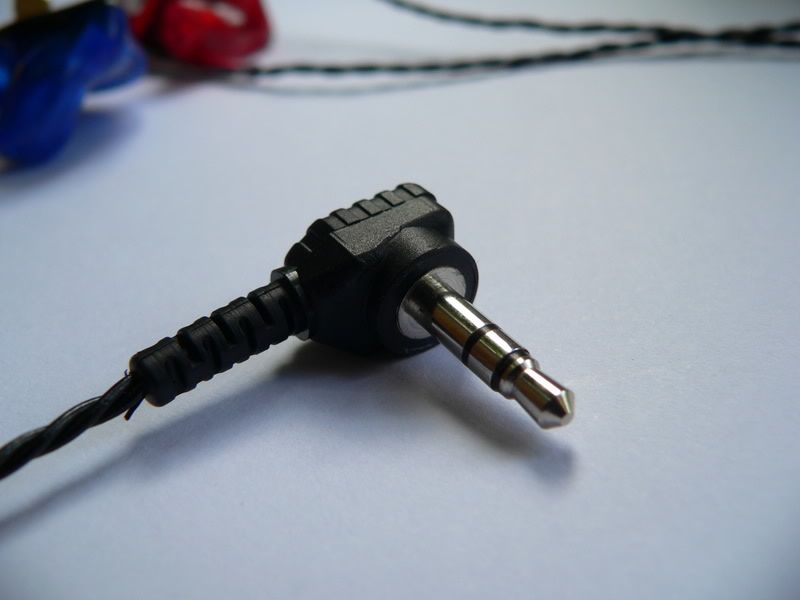 The miniplug
The cable-marking indicator. Simple, yet effective.
In Situ. (please excuse the manly stubble)
The next point about the construction is the cable. It is fully detachable with an innovative way of attaching itself to the earpiece itself, which allows the connector to swivel through 360. This means that they can be worn with the cable straight down, or wrapped back around the ear with the cable behind the head. Whilst this is a handy choice, I have grown very used to the round-the-ear method with my e5c's, and the extra difficulty in keeping the cable out of the way during the fairly tricky insertion process is a pain.
The insertion process will be subtly different from person to person, as everybody's ears are different. I found that aiming the sound-tube at the ear canal, and then "screwing" the rest of it into place, with the upper bump finding the grooves in the top of my ear, is the best method for me. De-insertion (as they suggest in their booklet) is best achieved by pulling the top of the ear up, and then pulling out the earpiece itself. More tricky than insertion, but not too bad, and certainly now after a month or two, it's not a problem in the slightest.
The cable itself feels pretty strong, yet is flexible and doesn't seem to suffer too badly from "memory", which I found a problem a bit with the e5c. As it is symmetrical, a small ring of red heat-shrink shows which wire goes to the right driver. The only real gripes I have with the cable (I have none with the earpieces themselves) is firstly that the 3.5mm plug is not gold-plated, but chrome. Not a major concern, but not what I would have preferred. The other gripe is that on my particular cable, the left-hand side is very slightly longer than the right. Again, not a major gripe for me, but another little "niggle" that is less than perfect, and something that I am sure should be ironed out fairly soon. The gold connector, which some have sited as an annoying detraction from the look of these things, is something I actually quite like, a little bit of bling never hurt anybody!
All in all, construction- and presentation-wise, I feel that Livewires have a little way to go. Yes, you are paying significantly under the odds for the IEM's themselves, but it also feels a little bit like you are getting a product that is just not quite perfect. From what I have seen of the Ultimate Ears and other customs, the package with them seems much more professional and "finished", coming with at very least a case to transport them in. Having said that, in many ways it is good not to be paying for those things as part of the package, as you can always find a pelican case or similar, and fit it precisely to your needs. I have seen a few guys who received their livewires after me who ended up with a nice looking branded waterproof iPod case. This is a nice little addition (not one that I am worried about not having, I hasten to add, as I always use an amp), but seems slightly out of sync with what's needed. Surely a carrying case for the IEM's themselves would be a more worthwhile addition to the package?
It's also worth noting that my cleaning tool was not of great quality either, and the wire loop managed to detach itself from the plastic handle the first time I used it, narrowly missing making it's way down the driver tube. I tend to have pretty clean ears, and don't think I'll need this much, but it is another example of how the peripherals here are somewhat less than perfect.
THE LISTEN:
Having had these for a few weeks, I have made the effort to give them more than just a cursory listen. I have tried to be thorough, and compare them to other headphones where possible and where appropriate. I don't have any other IEM's handy for comparison (at least none high-end enough for the comparison to be meaningful) but I will compare these to my current headphones, and to the e5c from memory.
The music used is a selection of my reference material. The list I used for my k1000 review is fairly comprehensive, with a few new additions.
Scott Matthews:
Passing Stranger
Ebjörn Svensson Trio:
Viaticum, Seven Days of Falling, E.S.T. Plays Monk
Pat Metheney:
One Quiet Night
Sufjan Stevens:
Come on Feel the Illinoise, the Avalanche
Soweto Kinch:
A Life in the Day of B19: Tales of the Tower Block
Sibelius:
Symphony No.5.
Slovak Phil. Adrian Leaper
Jose Gonzalez:
Veneer
Belle & Sebastian:
The Boy with the Arab Strap
Dirty Pretty Things:
Waterloo to Anywhere
Joni Mitchell:
Blue
The Bad Plus:
These are the Vistas
Britten:
Young Person's Guide to the Orchestra.
Czech Radio Symph. Ondrej Lenard
Beth Orton:
Trailer Park
The Square Pegs:
Cream of the Crop
Bob Dylan:
Blood on the Tracks
Professor Longhair:
Crawfish Fiesta
Various:
The London Horn Sound
Keith Jarrett:
The Köln Concert, La Scala, Up For It
The Notwist:
Neon Golden
Soil & "PIMP" Sessions:
Pimpin', Pimp Master
Radiohead:
The Bends.
Amy Winehouse:
Back to Black, Frank
Damien Rice:
O
Sigur Rós:
Takk
Thom Yorke:
The Eraser
Charles Mingus:
In a Soulful Mood
Various:
The London Horn Sound

I also used the Stax and Ultrasone test discs, to look at how they handled binaural recordings.

TO DRIVE:
Before I launch into the sonic review, I should mention how easy these are to drive. They are a very sensitive IEM, which is a bit of a double-edged sword. On the positive side, it means that you "don't need" to lug a portable amp with you on the go, but on the minus side, if your headphone jack is in any way "noisy", then you'll know about it. On my iPod (60Gb iPod Photo) the livewires are un-listenable straight from the headphone jack, due to the amount of hiss and CPU noise that's kicked out.
I did try with an el-cheapo flash player I use for music in the car (an old creative Muvo) and that was much better, but still the noise was very noticeable between tracks.
If you are looking to buy a pair of these and are thinking of going ampless, be aware that you might need to look into an in-line attenuator, or some other way of removing some noise from the signal path, perhaps the etymotic P-S converter.
SOUNDSTAGE:

It's as good a place as any to start, and one that interests me greatly. There is a continual debate on head-fi, and beyond, about the relative differences and merits of headphones and speakers. The consensus being that (with regards to soundstage) speakers clearly win. Within the head-fi community, a similar divide exists between full-sized headphones and IEM's. The "headstage" if IEM's being much smaller and "in-the-head". The livewires suffer from this, but seemingly to a lesser extent than universal IEM's. The soundstage feels that little bit wider and more precise. I am presuming this is to do with driver placement, making sure the drivers point precisely into your ears, but also maybe that their custom nature means the ear canal is not deformed, leading to a more "real" sound. This is just a "best guess" of what is happening, but it is fair to say that these little things pleasantly surprised me, soundstage-wise.
One of my favourite listening tests for any new headphone is to listen to the Fugue from Britten's "Young Person's Guide to the Orchestra". This has a massive tonal range, and the way in which the instruments enter makes it perfect for looking at soundstage, as you can try and pinpoint each instrument's location as they enter the mix. Whilst not on a par with any of my full-sized headphones in this test, the livewires did manage to give a sense of a soundstage, and the hint of the orchestral vastness that the piece needs.
With the Stax and Ultrasone text disks, the binaural effect was good, but not spectacular. Although the extra channel-separation afforded by IEM's is good, the lack of any stimulation to the outer-ear makes the effect less powerful. This is particularly evident when the effect is trying to replicate sounds that are extremely close to the ear, such as the initial voices on track 1 of the stax test disk.
DETAIL:
Like Most IEM's, the livewires excel at detail. If something is on a record, you had better be prepared to hear it, because it's going to be shown up. Little clicks and pops on the recording, page turns in classical, and various other studio noises are all there, whether you want them or not, and whilst this can be distracting sometimes, especially in less "clean" recordings, when the recording quality is good, you know about it. On something like One Quiet Night, the little string clicks, and sounds of fingers sliding on the strings add a great realism to the music, and make it extremely "convincing".
While this is more of a feature of good IEM's in general, due to their increased isolation; it's certainly an area that the livewires do well.
Likewise, with instrument separation. Although the instruments are not separated that far apart, soundstage wise, it is very easy to pick out each individual line in a mix. This is, of course, linked in with the level of detail, as the better you can hear each separate sound, the easier it is to hear them separately. This is one area where the livewires really excel, far better than the e5c, in my estimation. If you really want to pick a piece to it's bare bones, then these are a good place to start.

A SOLID BASE:
I'm sorry, I couldn't resist the silly title once I'd thought of it. But, to try and dig myself out of a pun-dug hole, it is fairly apt for what I feel about the low end of the frequency spectrum. It's a base on which the rest of the sound must be layered. I am not a bass-head (phew, finally dropped in the sensible spelling). Although I enjoy the occasional fling with the world of hip-hop, most of my music is based around "real" instruments. Thus, I tend to favour accuracy and quality of bass, rather than quantity.
These little things do bass well. The firm thudding electronic sort of bass happens as well as I have heard it happen on any IEM, certainly a little better than the e5c. While the (inherent) lack of stimulation of the outer ear is absent, the bass that is there is pretty solid. The thumps on the Notwist's "Neon Golden" are really full, and add a real "presence" to the music, something that can easily be lacking.
The "real" bass, such as that produced by a Mingus double bass solo, or the deep rumblings of an orchestra, are also reproduced well. On the Young Persons Guide, the massive counter-melody entry in the brass was suitably weighty, and the various bass tones easy to distinguish.
It's worth noting here that my rig is not really set up for bass. I have a "bright" lineout cable, and a fairly bass-light amp, thus my overall set-up is less than ideal for bass-response. I am sure that given a more bass-heavy set-up, they could deliver even more.

THE MIDDLE GROUND:
For mid-range, I don't think there's any greater test than vocals. Everybody knows what the human voice sounds like, and if it sounds "wrong" it's very easy to distinguish. There are a few vocal passages that I've been using to test these little guys. One is the opening of "blue" by the legendary Joni Mitchell. It's the finest 20 seconds in the history of pop music, and the warmth of her voice is carried very well by the livewires. Every slight waver comes across, and the rich husky timbre of her voice comes across very clearly. While I was never disappointed with the sound of my e5c, the difference here is pretty clear. The midrange is more pronounced and richer.
When the texture is slightly thicker, the midrange remains excellent. The thick French Horn sound on The London Horn Sound is portrayed spectacularly. As a horn player myself, this is an instrument I know intimately, and it should sound rich, warm and sumptuous. It's hard to get right, and the livewires just... get it right. The rich vocal tones on a Barbershop quartet record I have, likewise, sounded fantastic, the tone of the voices really brought to the fore. This is further helped by the fantastic instrument separation, as mentioned previously, and these come together to give a midrange that's both detailed and warm.
The midrange is very much the area in which the livewires excel the most, in my eyes. They give a magnificent rich warm tone, without losing accuracy, and sound magnificent with a wide range of styles and genres. Middle of the road, these are certainly not.
HIGH TIMES:
I am a guy who loves his highs. My love affair with the k1000 is one conceived almost entirely in its ability to sparkle and shimmer over the top end of the spectrum. The livewires, somewhat predictably, can't compete in this sort of sphere. A record like "passing stranger" by Scott Matthews doesn't have quite the same magical quality to it. The treble extension (by necessity of design, the drivers just don't do it) just isn't good enough to give that magical shimmering sound.
However, what they
do
do, they do well. Whilst I am a fan of high frequency, I can't stand sibilance at all. This is where my enjoyment of a lot of headphones has faltered. The SR60's were prone to it, to my ears, as are the KSC75's. The livewires don't do this. Their treble is present and accurate, without being overbearing. It doesn't do anything particularly spectacular, but it doesn't let the side down either.
IN CONCLUSION:
It's fair to say that I am a big fan of these. For less than £200, I have a portable can that I am more than happy with, and that blows every other IEM I've heard right out of the water. The sound has tremendous detail whilst still retaining a magnificent warmth and richness to the sound. The treble extension is limited, and is not perfect, but for an IEM, this is nothing to be ashamed of.
The product is great, but where these fall down is the package. It's no-frills, with a vengeance. There are none of the extras you might expect from a custom package like this, no case, no carrying pouch, only a cleaning tool, of frankly dubious quality. BUT, then again, the livewires are in a class of their own. Fully custom IEM's, for the same price or cheaper than universal-fit monitors. They are a champagne taste on a beer budget, and they've obviously achieved this by cutting down on the frills.
Since receiving my pair, I know that things have changed a bit at livewires HQ. The cables now all come with a gold mini-plug. There is also some sort of case, whether designed for an iPod or as an IEM case. Basically, the only bad things I have to say about these little things are being sorted.
So, I promised a short review, and I am tipping the several-thousand-words mark. I can only hope that this was a useful exercise, and at the very least a slightly entertaining read.
Stew