I've realized that I have a lot of stuff lying around that I don't use, or have the intention of using, so this is probably the first of many threads (recooping money for a recent E500 purchase, as well as a college looming and a nearly non-existant interest in audio doesn't help, either).
So the first to go are a set of boards for a dual mono LM3886 chipamp. I bought these boards thinking I'd actually build them up, but nope. The only thing I did was install LM3886s on each of the two mono boards. This is not a kit, it is only boards and the LM3886s already soldered on.
$20 ShippedSOLD
Second to go is an original headfi modified millett hybrid board. It includes buffer sockets and two OPA551 for use as buffers.
$11 Shipped
The next is a completed revision 1 LM3875 chipamp.com amplifier. The opamps are heatsinked (which can be removed if at buyer's request) and the resistors are the $6 a piece Caddock resistors. Also includes a completed rectifier board. This amp has never been used and has never been powered on; I completed the soldering and lost the motivation to finish it off. Also included are four extra LM3875s.
$40 shippedPayment:
PayPal (CC accepted), USPS MO, or cash (at your risk). Google Checkout preferred. Local pickup also available.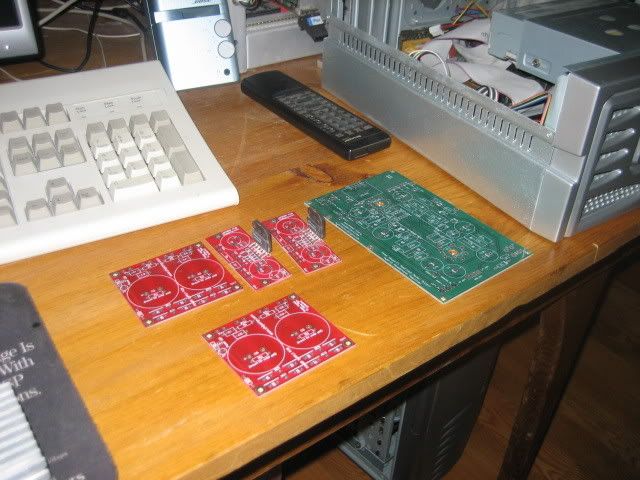 Thanks for looking