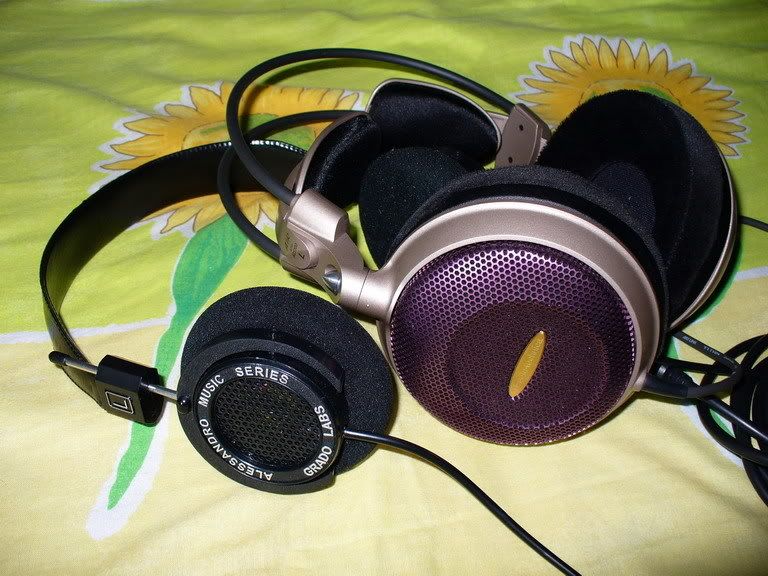 Some question regarding AD700 vs. MS-1 have been asked for quite a few time and since I own both, here is my little review/comparison of both. First of, I bought both in relatively close time and burnt them in as soon as I got them (>80hrs now). Second, just in case any of you don't know, A
D
700 is the open version of A700. SQ wise, AD series (open) is always better than A series (close) of the same number. Third, I never mod my MS-1, but rather use a replacement pad which give a slight effect of quarter mod (better breathing, I believe).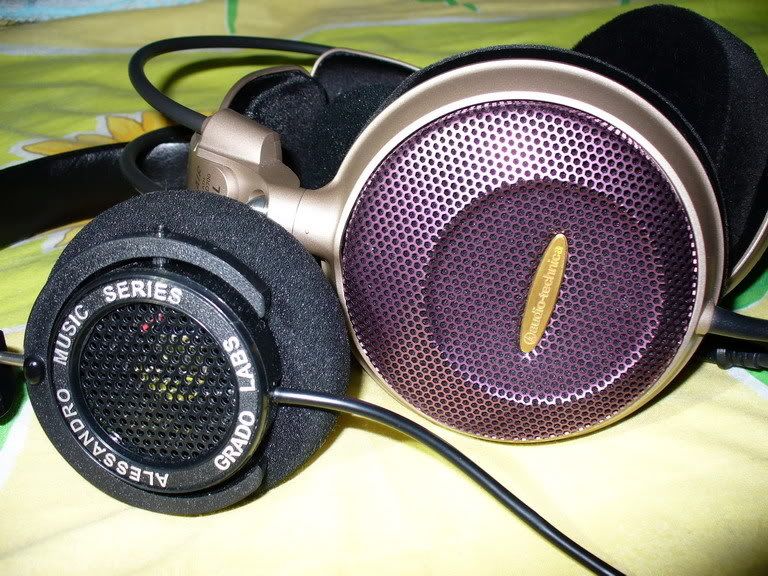 BUILD QUALITY
Like any Grado's 'phone, MS-1 looks and functions very retro. The good thing about using old style design is nothing much can go wrong - it is, by all means, 'solid'. Also with good quality built, AD700 is, however, very fancy in design and material. Although mainly made with plastic, AD700 doesn't feel cheap (of course). The paint job give it a very metal / high class look. Both 'phone use heavy cable. Weight by weight, MS-1's cable (Y-cord) is more heavy, although AD700's cable (single sided) is longer. As you can see in the picture, AD700 uses a metal mini plug that comes with 1/4' adapter. Due to its weight and Y-cord, I personally find MS-1's cable less user friendly.
COMFORT
AD700 is the definite winner. Its 3D-wing-design headband combine with the very soft pad simply puts no stress on the listener (even though its overall weight is actually heavier). The only problem is the listener might feel a bit of heat on long term use (as in any over-the-ear 'phone). For MS-1, its pad need braking-in before user will get any comfort in long term use. I washed mine several times just to get it softer.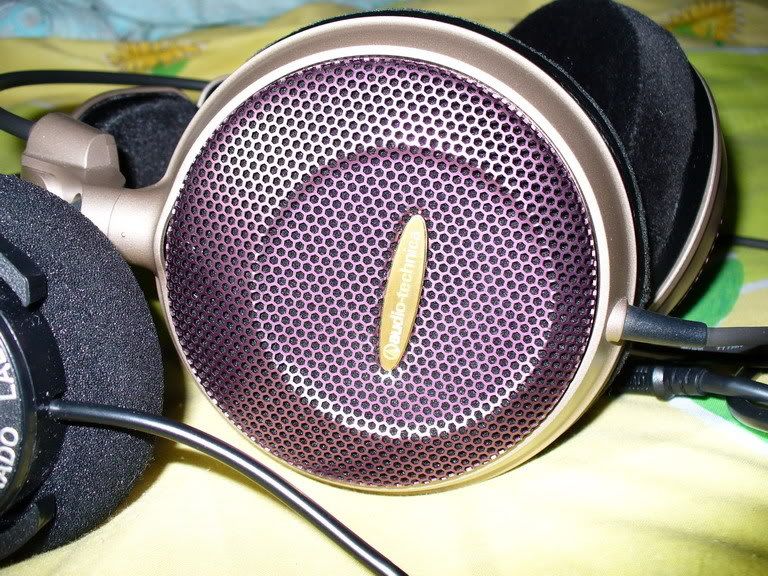 SOUND QUALITY
MS-1 is engaging, detail, tight bass, good vocal, balance in all range, nothing overwhelming. some might said MS-1 is bright, I personally find it to be OK. The only sonic quality MS-1 lacks of is soundstage. There is no sonic imaging about MS-1, every thing is 'in-your-face'. On the other hand, AD700 does not engage you into the music, but rather surround you with an unbeatable sound stage. Bass is there, but not powerful - just enough for any non-basshead. Vocal is slightly recessed, but nothing terrible. In short, MS-1 performs well with Rock&Roll recording, while AD700 really brings out the best of classical. SQ wise, AD700 is a better all around 'phone than MS-1 when considering all genre of music. However, depend on what kind of music you are into (ie. soundstage is not important), you might want to have MS-1 instead.
CONCLUSION
MS-1 has been prised as an all-around 'phone over Head-fi for quite a while, but personally I think AD700 will serve the job better. However, there are certain kind of music where MS-1 does perform better. I simply place AD700 first because the majority of people will tend to enjoy soundstage more, rather than the MS-1's 'in-your-face' sound. If you are not 'fix' on listening to a certain genre of music, I personally will recommend AD700. This is not to say MS-1 isn't good enough, it is simply because it is a Grado, and it'll take some time to get use to. The true is, most of those who own a Grado long enough will eventually fall in love with its 'in-your-face' sound. It is ultimately a choice you need to make for your own: what kind sonic signature are you looking for?