The highend headphone market is growing. allthough current production headphones top out at the $1000+/- level, the amplifier market continues to push the envelope. the evolving product is not simply a headphone amp, it's a fully functioning balanced stereo preamp. considering this dual purpose, a seemingly overpriced "headphone amp" is actually a simplified home audio control system, and thus a relative bargain to boot.
the newest addition to the Headfi scene is the Apache by Ray Samuels Audio. the Apache is scheduled for official release in about 2 weeks but Ray afforded me the opportunity to demo his preproduction unit. i have given this an extensive audition and inevitably a comparison to the Headamp GS-X which i have owned since September 2006.
i have never had the opportunity to run my system balanced with the single ended Meridian 596 DVD/CD source. Ray Samuels was generous enough to send his Meridian 508.24 CD player which runs balanced XLR outputs. i was impressed with the impovment the 508.24 made in my setup and i recently bought a Meridian G08. i will compare the three Meridian sources in a later thread on the Dedicated Source forum.
the interconnects are all the most recent revision of Grover S, i have two pair balanced XLR and two pair single ended RCA. keeping the cables constant allowed me to hear the actual difference in amplification, plus compare single ended to balanced operation more fairly, without cable differences accounting for changes in sound quality. i owe a big thanks to Grover Huffman who was able to rush me these cables in time, the comparision was on fairly short notice.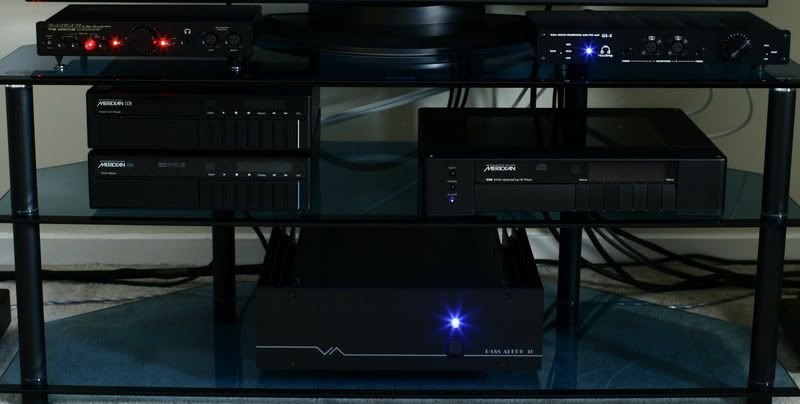 each preamp has 3 gain levels to accompany the various impedances of headphones. the low gain is designed for IEM use, med gain is designed for efficent fullsize headphones such as Grado and Audio Technica, the high gain is often used for high impedance headphones such as Beyerdynamc or Sennheiser. the Apache/GS-X both use a DACT stepped attentuator for volume control and the gain adjustment helps maximize the usability by lessening the volume increase between each step level.
while listening balanced i set the amps on low gain with no clipping or sound degridation detected even with high impedance headphones. the Meridian G08 source sends 4.6v from its balanced output and thus the headphone volume gets loud at a revelive low gain setting on the Apache and GS-X alike. for single ended headphone use i usually set the gain to med as the G08 output voltage is more traditional 2.3v.
for preamp duty i always keep the Apache/GS-X at low gain, i feel this allows the most sonic information to reach the next gain stage. the XLR preout sends balanced signal to PassLabs Aleph30 2channel balanced power amp driving Zu Druids. simultaneously, a Zu mini-method powered subwoofer is provided signal from the RCA preout, no splitter needed
The RSA Apache
sports a dual chassis design which seperates the power supply from the amplification circut, the amp measures 12 x 8 x 1.75" and the powersully has the same footprint with a 2.5" height. the Apache is dual mono fully balanced input/output with 2 balanced XLR inputs, 2 single ended RCA inputs, one XLR balanced preamp output, one single ended RCA preamp output, a 1/4" single ended headphone output, and finally a balanced XLR headphone output. the XLR input/outputs are also capable of single ended operation so they are active when the amp is running single ended. this all adds up to a very generous array of connectivity.
the input source selection is controlled by red LED illuminated pushbuttons which instantaneously switch to the desired input, a nice feature which works flawlessly in replacing the traditional knob selector. there are also selector switches for Headphone/Preamp selection, and Play/Mute. there is no power switch so as long as the amp is plugged in it will be ready to use.
i was very excited about the Headphone/Preamp selection as i could leave my power amp on continuously while i switched to headphones. however, i was disappointed to hear a loud "POP" though the speakers when the Preamp switch is activated. i spoke to Ray about this and he acknowledges the inconvience but assured me he thought it over deeply and there was nothing he could do to prevent the sound. Ray was confident that it does not damage the speaker drivers.
the Play/Mute function is a nice touch but i found it redundant considering i could just pause my CD player instead, YMMV.
the build on the Apache is top notch in every respect. its obvious that extra steps are taken in chasis prep before the Anodization stage, the metal grain is smooth and flawless. the silkscreening is perfectly applied and beyond the obvious utility of the writing the design is absolute artwork. the faceplate has a perfectly finished bevel running the entire perimeter. the volume knob is heavy so the stepped attenuator turns very smooth with good dampening. the Apache rests confidently on gunmetal chrome spiked feet that thread directly into the bottom plate. the powersupply follows suit featuring a thick decorative accent plate. its really a pleasure to handle this unit and succeeds at providing a proud sense of ownership.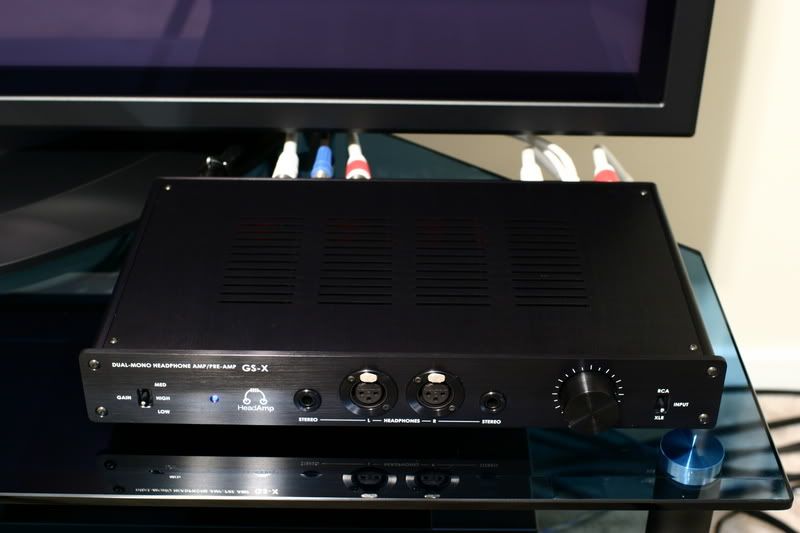 The Headamp GS-X
is also laid out in 2 chasis configuration. however the dimensions of the powersupply are identical to that of the amp. the dimesions read 14.25 x 8.5 x 1.75" and both pieces have a ventilated top plate to release heat. the chasis prep is a step below the Apache, it is not bad in any respect but the grain is deeper and less consistant which slightly affects the quality of the final anodizing. the faceplate is very standard in design with thick durable white silkscreeing identifying component functionality, no nonsense and the plate is not beveled. the volume knob is not as robust as the Apache and therefore each click of the attenuator delivers a slightly hollow sound. the GS-X rests on standard rubber feet which may be boring but its certainly easier to move around and with no worry about sharp spikes scratching delicate (and expensive) surfaces. As far as i can tell both the Apache and GS-X use the same style chasis body (i.e same manufacturer) with custom front faceplates.
functionally the GS-X is also dual mono fully balanced design, in fairly direct comparison to the Apache. GS-X features one balanced XLR input and one single ended RCA input (remember the Apache has two of each). it equals the Apache with one balanced XLR preout and one single ended RCA preout. However, the GS-X adds an XLR and RCA loop out, and two 1/4" headphone outputs in addition to the balanced XLR headphone output. the input selection is a simple 2 step toggle switch between XLR and RCA. Likewise, the GS-X will convert the XLR input/outputs into single ended operation, and the single ended outputs (1/4" and RCA) will work as normal even when the amp is in balanced configuration.
while i do appreciate the loop out function, i would have sacrified the RCA loop out for a second RCA input, keeping the XLR loop out. the second 1/4" headphone output is a very welcome additon. the powersupply does have an ON/OFF toggle switch.
so what we are left with is two fully functional balanced preamps, they differ slightly in design and functionality, but they are both comparable and will both serve good purpose. it should be noted that the GS-X uses a single blue LED on both the amp and powersupply, this is a very easy design to black-out with a sticker or rubber foot. the Apache has a total of 8 red LEDs on the amplifier face, 3 of which are lit at any given time, and the input selection LED switches cannot be blacked out. the Apache powersupply has two red LEDs, easily covered.
so enough with all the confusing features, heres how they sound.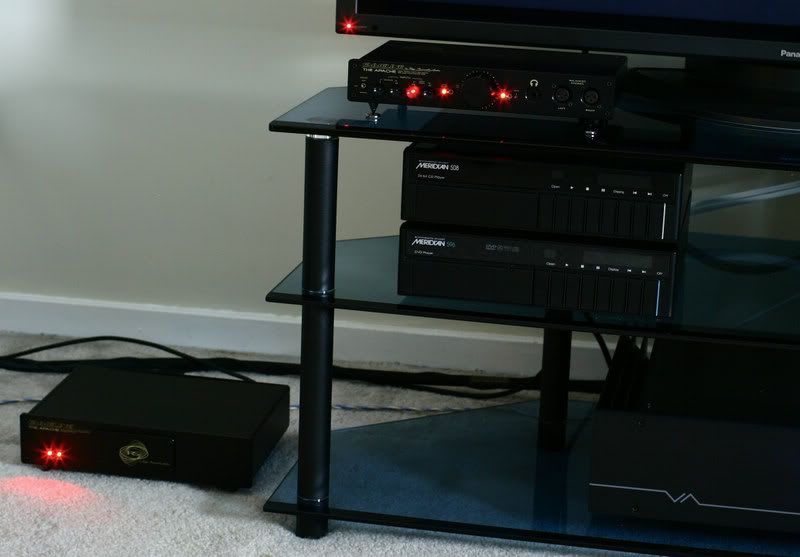 The Apache
absolutley dominates dynamics. attack speed, impact, and image focus are all very strong. the presentation is slightly distanced and laid out in stage orientation, the sounds all place very easily and have defined edges within the space they occupy. with headphones the soundstage forms an arc stretching from my direct side next to my ears, out front beyond my eyes, with nice top to bottom definition as well.
detail is fairly transparant, a very low noisfloor allows notes to appear from blackness. i feel that i am always concious of what the recording is offering, it is very easy to zoom in on a sound that doesnt inherently jump out to the front, this is deep and tightly layered focus. everything is crystal clear and there seems to be no rolloff in the upper register but sibilance is very well controlled
the mids have a pleasing forward warmth, not overly lush but definitely enjoyable, again well layered and defined the soundstage really holds its composure. vocals and lead instruments stay in the front of the overall presentation. bass is OMG good, so deep with the tightest impact i have heard, it makes me blink.
all these elements combine perfectly for seemless integration of the frequency spectrum. its a very fun and engaging sound that also holds refinement well.
as a preamp the Apache's more focused but distanced presentaion now becomes slightly frustrating. sound is more isolated between the speakers and each occupy a smaller soundfield than i am accustomed to. sounds and tones that normally settle into my subconcious as i listen to the body of music, now have a more focused presence. its difficult to be enveloped in music, the Apache presentation lends itself more to be watched and conciously appreciated.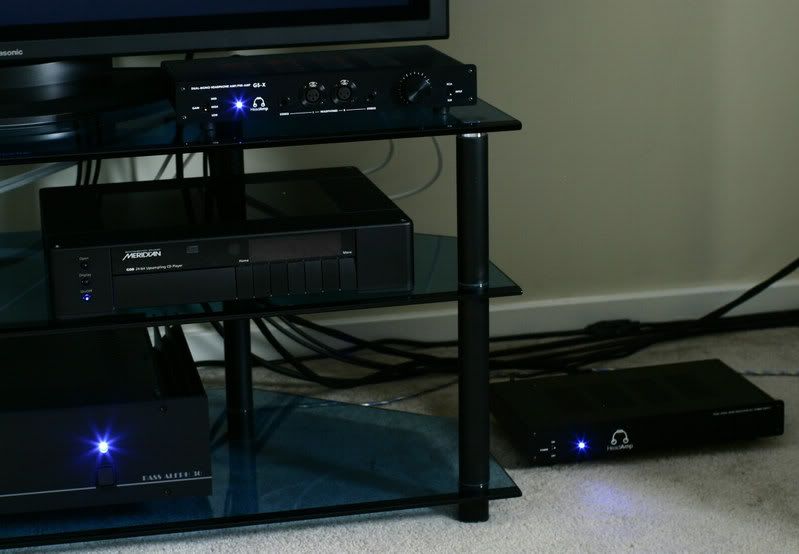 The GS-X
is wholey transparant. the entire frequency range has much less focus and sounds seem to come from nowhere, not nearly as easily placeable and this also dulls the leading edge impact.
with headphones the presentation is very forward. the soundstage occasionally forms behind the focal plane of my eyes, but also clearly extends outwards and upwards. i can hear sounds behind my ears and deep within my head. the entire presentation is much more blended in that it is difficut to single out the location of any particular sound or frequency. each instrument has a very real sense of depth and eminates from blackness, dead quite space exists between sounds, there is no detectable noisefloor.
Bass does not form into a punching ball of mass like the Apache. instead it spans the lower registers and provides more of a reverberating foundation. it still has very good detail and form, but not the same level of impact. the GS-X decrease in focus handles tape hiss better than the Apache. it is there but its not as noticable, with the Apache tape hiss tends to focus into an image. nothing about the GS-X presentation lends itself to stick out and be noticed, its a very balanced sound but needs carefull headphone matching because otherwise it can sound flat in the midrange.
with headphones the GS-X can sound alittle disjointed and vauge in comparison to the Apache, its in preamp duty that the GS-X presentation works well. the soundstage is immediatley larger because the images are not as tight, but this seems to work well on a large scale system when trying to fill an entire room with sound. undertones are more transparant in that they wont easily draw attention away from the body of music. the more forward soundstage now becomes plainly apparant because i am not looking as far off into the room to focus on instruments. the Apache occasionalyy gave the distinct feeling of looking deep into a big tunnel between the speakers. the GS-X is closer and wider. with a seperate powered subwoofer its easy to forget the GS-X is lacking some bass punch. the GS-X presentation is easily enjoyed as a whole.
Conclusions:
switching from balanced to single ended using the 508.24 was a good lessen about what exactly changes in balanced operation. the bass subtly improves by getting tighter but it also loses some fullness and length of decay. overall the imaging becomes cleaner and switching back to single ended the music sounds more smeared. volume matching is critical because an A/B switch leaves the balanced signal much louder than single ended, i did find that i was more easily inclined to turn the volume up louder when listening balanced, things stay clear and clean longer so the added power affords a nice increase in dynamics. again on the larger scale of my speakers the change is more obvious and again appreciated.
i have been using a pair of balanced Grado PS-1 that Ray sent with the rest of his demo gear, as well as a balanced Sennheiser HD-650. also Audio Technica AD2000 and W5000 which i have left single ended for the time being but will be balancing soon, more to come.
So after all this the verdict is that preference comes down to system matching and personal taste. i find the Apache is more engaging, the GS-X is more enveloping. it is not clear-cut, you must use your own judgment, experience, and music to reach a buying decision. i will say that the GS-X will be staying in my system for awhile, but i am following through on my Apache preorder and when it arrives i will be continuing my personal listening comparisons. there is a fairly substantial price differential at work here as well, at $3000 the Apache is a hefty commitment, at $1800 the GS-X was expensive but just became a bargain. as a final observation i would suggest that with lower end source and/or material the Apache will be the better choice. ultimate transparancy is welcome when you like everything you are hearing, in reality some character can be more easily appreciated.
special thanks to Ray Samuels for providing me with so much awesome gear, he is a true asset to this community, a pleasure to be in contact with, and IMHO the finest builder in this buisness. he uses his own designs and produces a top notch product, his prices are higher but are reflected in his dedication.
a few links:
Apache Info and Pics
GS-X pics
My HR-2 comparision to the Apache
i'm sure i screwed up some stats and forgot to mention a few things so any corrections and further questions are welcomed. thanks for reading.