I'm pretty settled with my portable gear (for now, at least
) so here are my various setups...
(clickable thumbnail)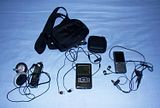 From left:
Cheapo 256MB DAP -> Kramer-modded KSC-75s, for jogging/long walks/anything else where it's beneficial to be able to hear ambient noise
iriver H320 -> CrossRoads MylarOne - for general use/commuting. Pictured with CrossRoads hard case and a camera bag for transporting.
Sony Ericsson K610i -> cheap 3.5mm adapter -> Creative EP-630. Good enough for when I can't be bothered bringing my iriver around.