I bought a Musiland M-10 from
yelzin
! It arrived today! It was so well packed I had difficulty in unpacking it for 10 minutes!!!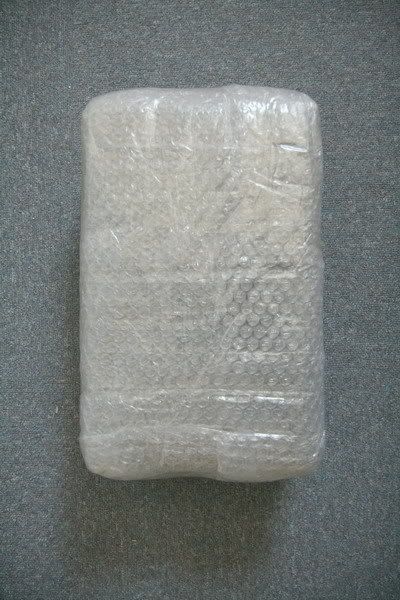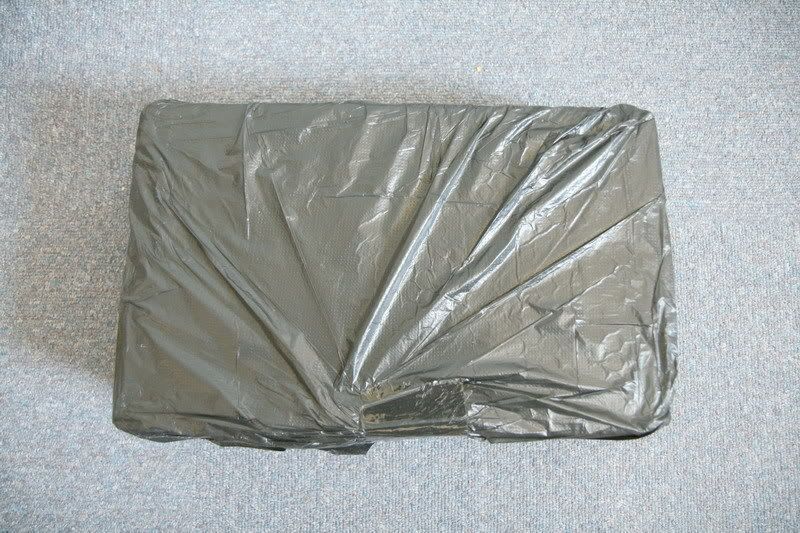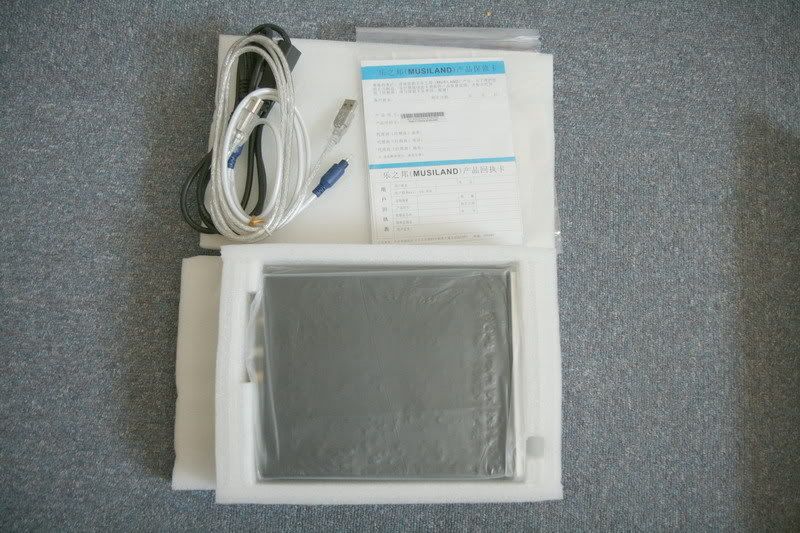 After all that efforts untangling it, I saw a small yet heavy unit! Face plate should have been more polished and refined! But I like the feeling of the unit. Well built!
Here is a picture of my Supermacro compared to M-10!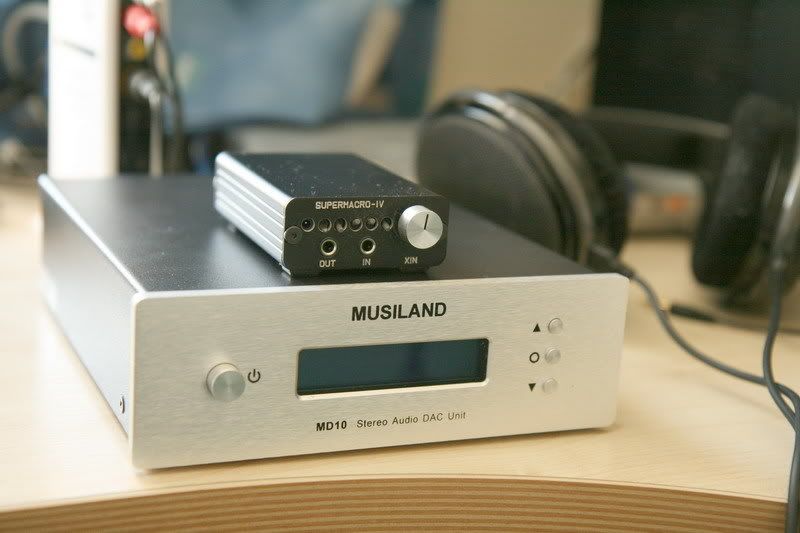 Anatomy and Guts!!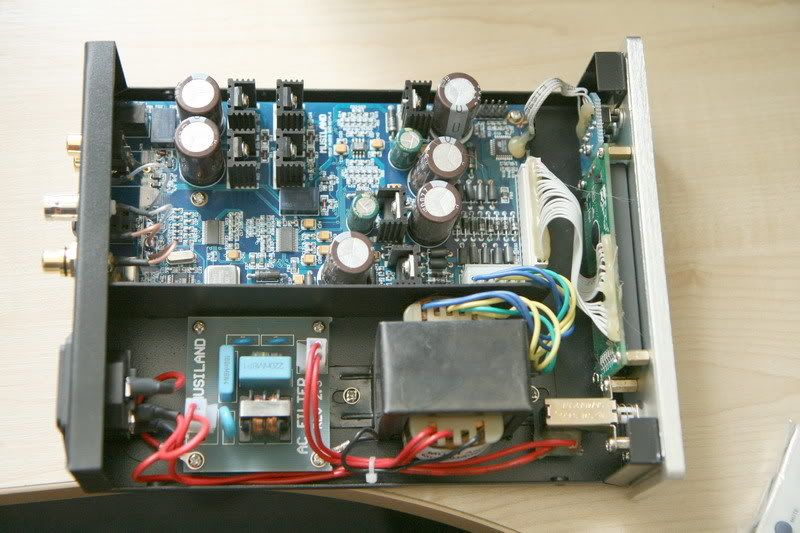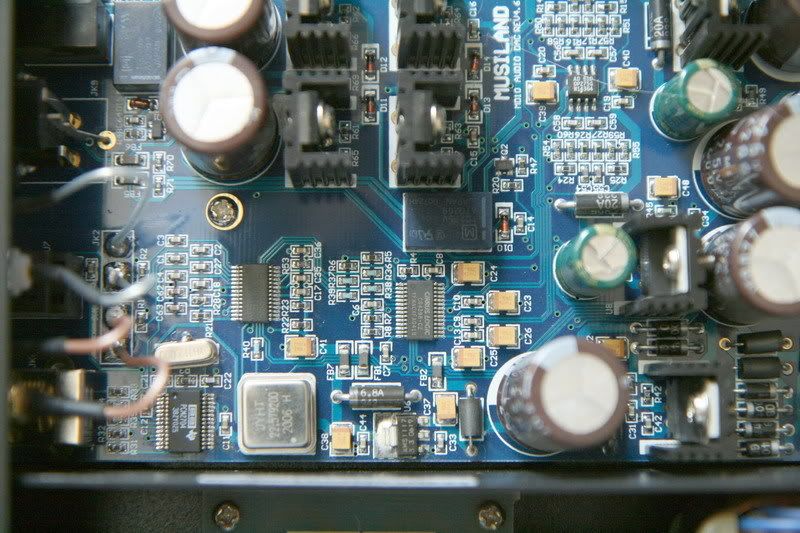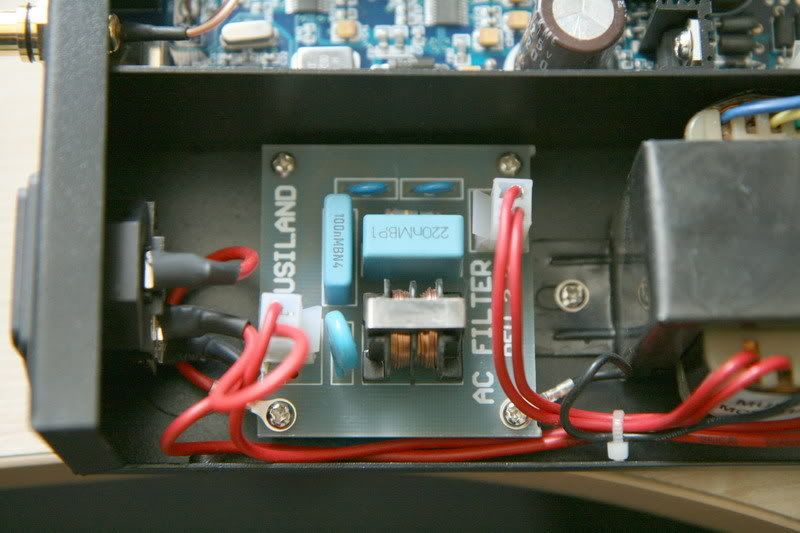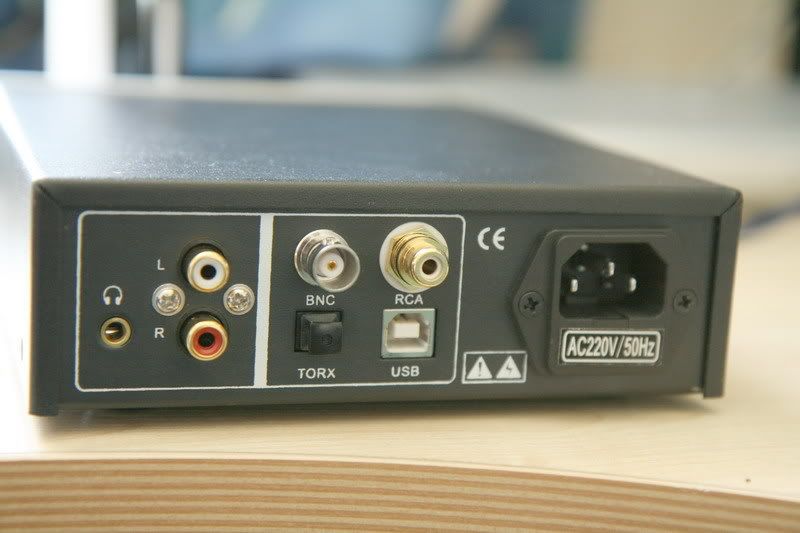 Running at 16bit 44.1 KHz optical input from my A710!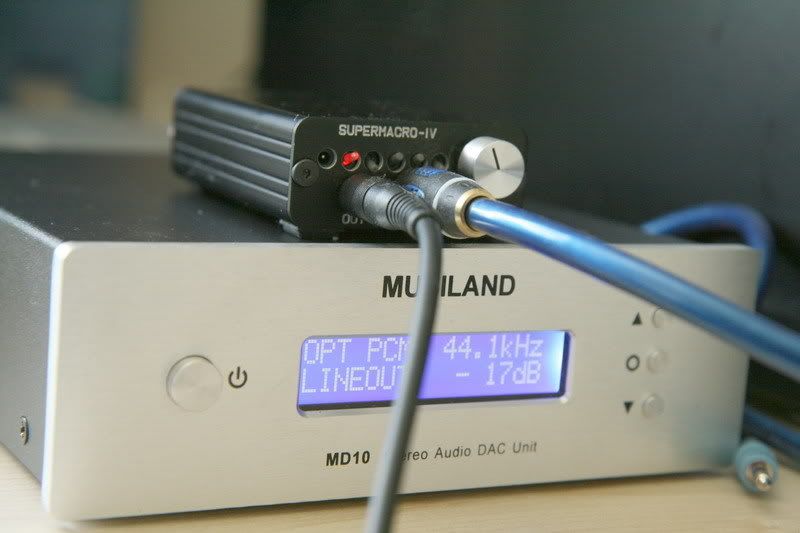 Specifications
* 24bit System, up to 192kHz Sampling Frequency
* BNC, Coax, USB or Toslink inputs
* Microcomputer Control, LCD Display, OSD Menu, Real-time to Show Sampling Rate
* Line or Earphone Analog Audio Output Interface
* Class A Earphone Amplifier
* Sampling Frequencies: 32kHz、44.1kHz、48kHz、88.2kHz、96kHz、176.4kHz or 192kHz
* Analog Audio Output Interface: RCA 3.5mm Phone Socket
* CIRRUS Flagship CS4398 D/A Chip, Up to 120Db SNR
* Dual digital filtering: 102 db or 75 db
* MUSILAND Balance Analog Filter class A AMP.
* Up, Down and Function key
* Input mode setting
* Output mode setting
* Independent linear output volume and earphone output volume control
* Decode style setting: HIFI, AV
* Decode bit depth: 16bit, 20bit, 24bit
* Internal memory for user settings
Initial impressions!
Early days yet! But nice warm sound with very good sound-stage! Wish it had more lateral depth! Trebles is most impressive! Nice clear and accurate mids! have attack and not harsh at all. Definition and clariTy are good. I thought bass notes are not hitting the deepest parts yet! Will see as time goes on!
Word on
Yelzin
! Most helpful and friendly guy, I ever dealt with so far in buying audio gear! If I ever buy Chinese DAC products again I first contact him.
More impressions later!! Have to rush to listen to music!!
After 50 hours of burning 2007/04/26
I really like the size of this DAC. It is smaller than I expected. The Blue display is beautiful. It shows Input source, output source, decoding frequency and volume levels. User interface is simple and easy to use. One can select input source, output source, bit depth and style. It has two modes of audio styles AV and HIFI. Electronic volume control is easy to use. As Musiland aim it for foreign market it has more features user-friendliness and connectivity options: RCA and BNC coax SPDIF, Optical SPDIF and USB.
There is no white noise when I switched on using line-out. Headphone out gives a little hiss and sound quality far below that of line out. Yelzin who has a good relationship with Musiland designers told me, It is 90-95% DAC than headphone amp. It gives 5% of its performance to that function.
After 50 hours of burning it changed it SQ considerably. Sound-stage is more wide apart now. But I thought there is room for more expansion. Trebles are impressive with very good extension. It doesn't have harshness or sibilance. Mid tones are sweet but upper mids still has some piercing quality with front presentation. Bass is good. But I thought has more room for lower extension. It lacks little bit of OOMPH factor and punch.
Transients: Decay and attack qualities, are impressive with trebles. But Bass need some more speed. Mids are avaerage. Separation and clarity: I thought it needed some improvement as due to prominent upper mids I felt little congestion in sound, though its separation is very good. Here I have been bit over-critical perhaps. Sound-stage, Airyness: Right out of box it had rather narrow soundstage. But after burning it has impressive soundstaging. There is airyness, but I wish there would have been few more layers of air.
I Modded the DAC with Replacing OPAMP with LM4562, Capacitors with RUBICON ZL series and DIODES with UF4007 ultra fast diodes. Silver solder used for re-soldering. I would have increased the capacitance of power supply with either 4700UF or even 10000UF capacitors. But as it is a precision device I didn't want to deviate from original values.

The Chinese Audio forums mention that removing the AC-filter has some effect on improved sound-stage. I didn't do it again for above reasons but will give it a go later when I burn the DAC after above Mods for 50 hours for comparison.
After 50 hours of burning of modded DAC 2007/04/30
The sound-stage is huge now. The clarity, definition and layering has improved a lot. There is now airyness with few more layers of music. Bass has more deeper extension. Most impressive thing is the punch and attack of bass notes. It can give you sudden well controlled kick now. Trebles are impressive even from the beginning. I think the upper mids are more tamed now. The tonal accuracy is good.
The most improvements were achieved in transients, sound staging and bass after the Mods.
Removing the AC filter showed some little improvement in sound -stage.
What I don't like: Even after modding I do not like its more front presentation of upper mids. Some recordings and loud female voices sometimes give me a feeling that I should adjust sounds with foobar EQ! With HD650, which has laid-back sound this may be a disguised blessing.
I really enjoy this little beauty now. Really enjoyed modding it. My next adventure would be trekking into high-end DAC zone by buying a Stello D100. The Musiland has very user-friendly features, which I will miss a lot, even when I upgrade.