Quote:
Originally Posted by
Duggeh
Eccentricity of some kind. (plus a groovy avatar)
Alternately, follow the way of The Dude, his Dudeness, or El Duderino if you're not into the whole brevity thing.
Feh. In actuality your av does not move!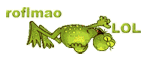 …neither does/do mine, of course … no new animated avatars … sigh.
cute baby animals are cool… that doesn't make me or you cool, tho'