Approximately 10 days ago, I decided I wanted another pair of Shure E2 headphones for my wife. The set of E2C I have sound pretty good with the "Kramer Mod" of removing the plastic washer that holds the wax guards in place, and she had kept borrowing them so it was hard to get my hands on them when I went on a trip.
I went to eBay and found a US seller in Texas with minimum but positive feedback selling a bunch of "SHURE E2c Sound Isolating Headphones!" on a Buy It Now as new for $32, plus $15 shipping via US Postal Service Priority Mail. A reasonable price, I thought, so I bought and sent a Paypal immediately.
Several hours later, a message from eBay appeared in my inbox, informing me that the listing I had just purchased against had been removed. Sure enough, it had. Evidently, the seller account had been hijacked and a bunch of listings had been placed up under that seller account. The eBay email urged me to sever all contact with the seller and begin a PayPal dispute, which I did.
I was surprised to see, the next day, a tracking number on the Paypal payment description that pointed to a Chinese shipping site (EMS). I fed the tracking number into the site, and sure enough, there was a package headed my way. Obviously, the headphones weren't located in the US and also weren't being sold by a US seller.
Last Friday, here's what arrived in my mailbox via USPS, but originating from Shanghai: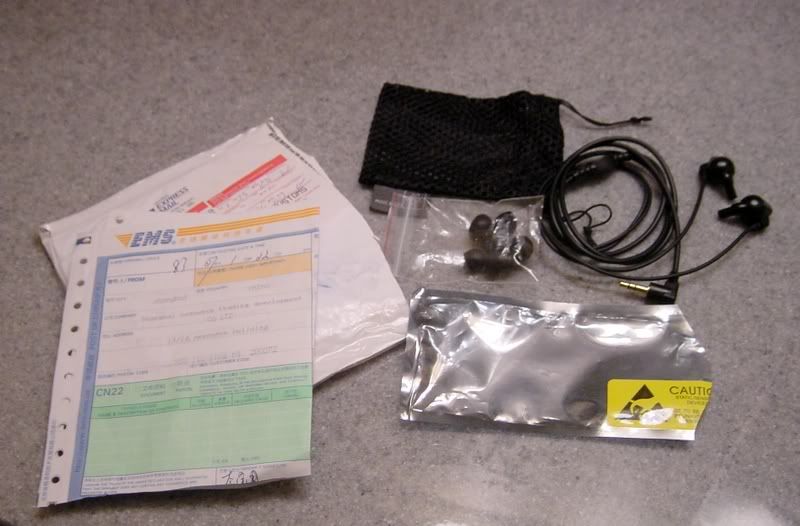 As you can plainly see, these aren't a normal set of E2 headphones from Shure. They came sealed in a static-free bag, and had a small nylon carrying bag and no "fit kit" just three sets of silicone tips in different sizes. There are three other differences between these and my E2C:
-The sound tubes do not have wax guards and don't have a seam where the "wax guard" washers should be, although I could install wax guards on these.
-The cord is lighter weight and about a foot shorter than normal, although it is still gold-plated and at a 90-degree angle.
-There's no clear-plastic slipcover at the "Y" junction where the two wires become one.
More photos: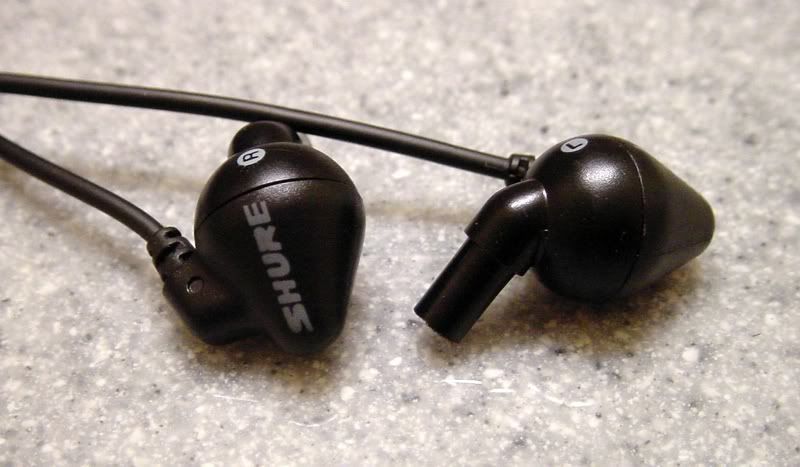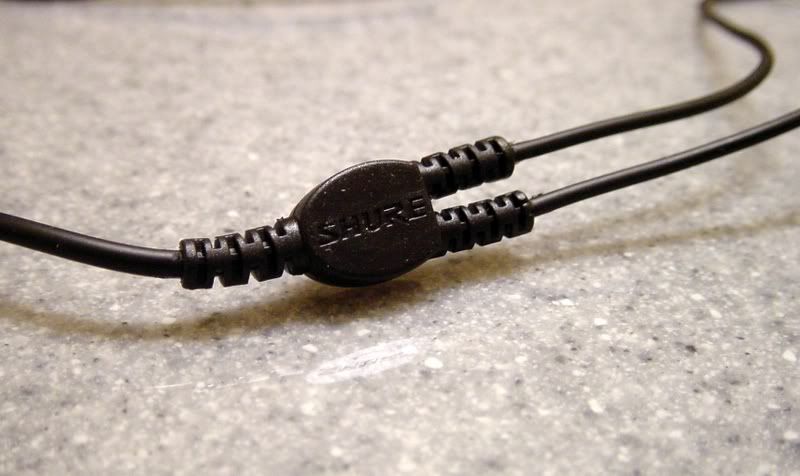 All of that being said, they -sound- fine. They sound just like my E2C did before I modded them. The standard orange foamies fit perfectly. Yet because of the strange packing and three bullet points above, I can't be "shure" that these are really Shures.
Shure E2C are made in China. Perhaps these fell off the back of a truck in Shanghai? Or perhaps they are a (very good) copy? Or perhaps they are some sort of OEM model meant for packing with other devices?
I don't know what I'll do with them. Since they sound just fine, I may use them for their intended purpose. But I'd like to know if they are real or not, because if I decide to re-sell them I want to disclose everything to buyers.
A final warning. It appears that there are once again many listings on eBay identical to the one I bit on (see item 270084688081), although from a different seller. Check the seller's feedback, and more importantly, check and see what they've sold in the past. In my case, the seller had always sold things like baby toys and furniture, and suddenly was selling high quality IEMs? Something wasn't right. If it sounds too good to be true, it probably is.