Quote:
Originally Posted by Sovkiller
Not sure and better contact them, but IIRC the 750 has some openings inside the front panel of the cups (some big holes), that fire some of the back sound of the driver to the inside of the cup, and are covered by some material that do not block them completelly (working like an apperiodic port in an speaker or so) while in the 2500 the front panels are completelly covered....
I'm not 100% sure, and I could be wrong so please again ask them
but I think that one size fit all, is not posible, but asking will not harm...and if you get that answer just gimme a shout that could be my solution as well, and it is simpler than what you think, IIRC is only a matter of getting the ring from the 750 that covers the vents on the back of the cup, piece of cake, and if it is possible, of course...
Thanks for that, SK, so it is a little more complex than I had anticipated. Some photos from your earlier thread indicate a clear difference between the 750 and the 2500: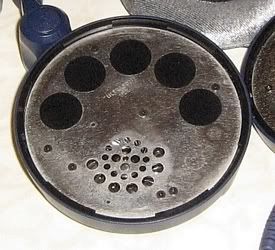 So in order to better replicate the behavior of the 750s, the exterior vents would need to be covered
and
the 5 black circles covering the inner baffles would need to be removed.
Probably more trouble than it's worth.
Oh well, now to decide between the 750 and 2500.
Decisions, decisions...
Cheers, Dex