After owning these semi IEMs for a few days I'm convinced with a little bit of modding they are near to the same standard as Hi-end IEMs such as Westone UM2s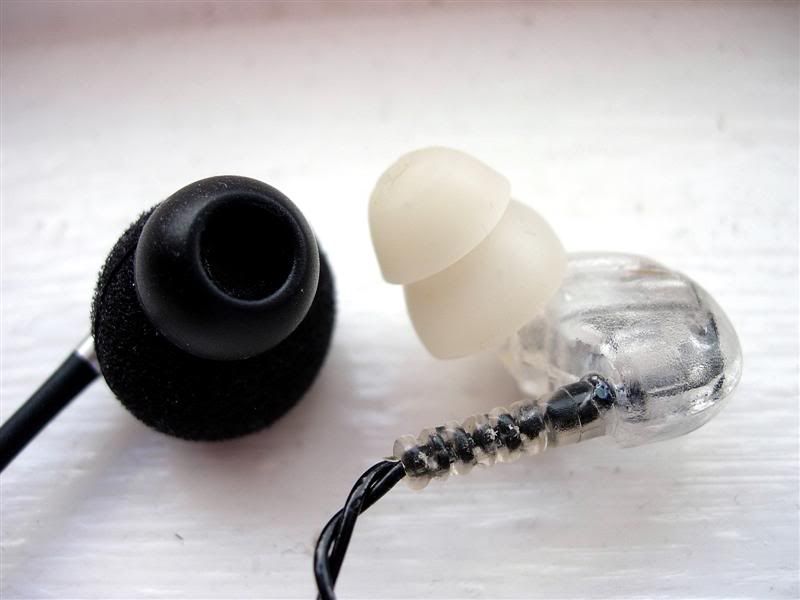 Problems with Unmodded EX90
No Isolation

Although great sound - its a little thin compared to the best
The isolation problems are dew to 3 small holes on the main driver unit. They both let sound out and in.
To solve this, use cling film (tape didn't sound as good to my ears) - I find about 4 layers works best. Not only do you have isolation, but WOW THE SOUND.... Its big and punchy - the bass is superb. The sound signature is a bit on the dark side and very similar to UM2's – but that's not a bad thing… the only difference is UM2's have a bit more detail, but at 3x less cost who is complaining!
Now we run into one big problem – having sealed the unit – the main drivers may be damaged by putting in, and removing the ex90's from your ears. You may hear a little crunching sound or a pop.
To solve this you have to add a little "venting" to the headphones – put a small pin hole in the cling film where the middle opening is on the main driver. Beware don't make hole too big or it will brighten sound too much. Hole should be about 0.5-0.8mm big and visible!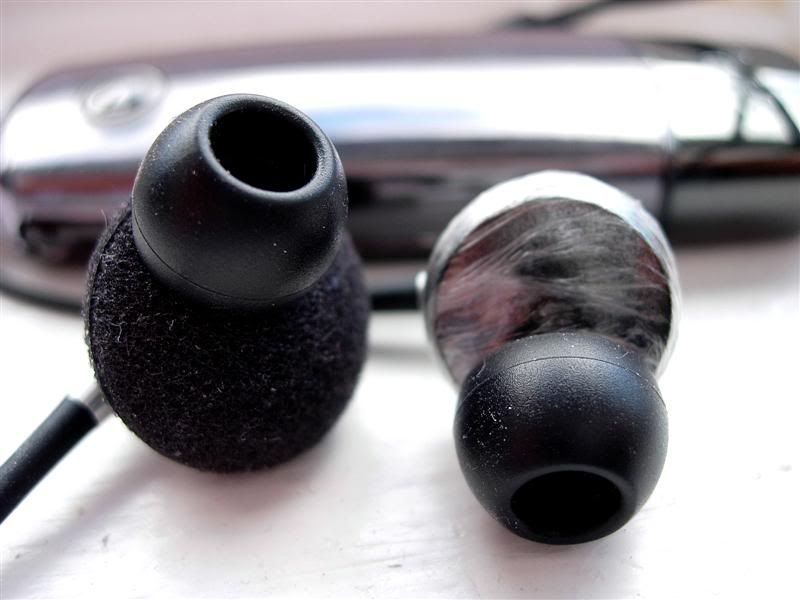 Unfortanly the vent does take away 25% of the great sound, but still a huge improvement over stock EX90's.
I'm also experimenting with foam covers too.
Does anyone know of a way of counter acting the pressure on the drivers when the unit is sealed air tight?
The germanium mod
- thanks mate - here's instructions from kramer5150 how to do it! Ive not tried it myself yet, but it improves mids greatly
"I used a dull x-acto knife and scraped the perimeter of the mesh grille cloth away, down to the bare plastic material. The remaining circle portion of the cloth pulls out easily with a thumb tack. Pull the little foam piece out with the thumbtack and set it aside. You can always slide it back in and use it a s a wax filter (I do this with my moded koss plugs). I used a damp paper towel to clean up any scrap plastic shavings from the sound tube.
Upper mids are now MUCH more in cohesion with the treble. Theres a nice smooth treble / upper midrange transition, which wasn't there previously.
Clarity seems to be improved across all frequencies too, while bass still has impact and depth. Listening to Diana Krall "Peel me a Grape", acoustic bass lines are SMOOTH and very articulate. Theres definitely a layer of detail resolution that was not there before. Same goes for her vocals... some added breath and vocal texture that was missing previously.
Surprisingly I don't notice much change to the soundstage separation. Center stage definitely seems more alive and present than before, but spatially there still is a nice sense of distance and L/R separation (for a canal-phone).
All I can say is WOW, theres some stellar detail resolution lurking in these little cans."