T40v1 update
Okay, T40 version one owners-- Here's the scoop. You may not be as surprised as I was to hear what a little 6mm long tunnel going directly from the baffle to your ear does to the sound, but it was a semester's worth of education for me.

Oddly enough, Coby (yes, Coby)..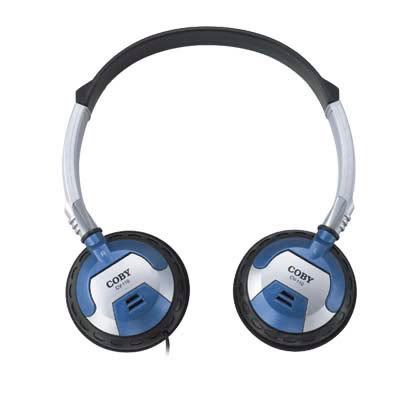 COBY CV-130-- A CAUTIONARY EXAMPLE

..did the same thing with the erstwhile Big Lots Favorite, their CV-130-- the World's Cheapest Audiophile Headphones ($6), [the briefly-available $8 Accura SR-660 was strong competition]. Under perfectly comfortable earpads they doubletaped foam rubber rings (also 6mm thick) to the baffle, surrounding the driver opening. This had two effects: One, the rings made the CV-130 uncomfortable, and two, they made it sound like you'd expect a $6 headphone to sound. Peeling the rings off (very easy) makes all the difference, and the same is true of the T40v1. It's hard to describe how crappy those goofy rings make the T40 sound, but "fear and loathing" comes to mind, so I'm going to break character and recommend doing a mod that actually changes a headphone-- even though it's in a very minor way-- despite the fact that it could affect the resale value. With that caveat, I say dump those foam rings. Arrgh! Rip 'em out and try to peel off every last crumb that sticks to the baffle! They be evil, I tell ye.

If you don't trust my judgment, and who would, just rip them off slowly so as not to destroy them and you'll find you can put them back, since the earpads will hold them on firmly. My money is on finding them in your wastebasket within five minutes.

Fostex, how could you?

Well, I think I know why they did it-- it gives a boost to the upper mids, which lends clarity to voices and instruments, no surprise given their pro audio mandate. But it messes up everything else.

Note well, this is my finding after doing the pink-foam mod shown earlier. I just cut out a square of the stuff roughly big enough to fill the square-shaped empty driver cup, foam "eggs" facing the driver, being careful to keep the foam out of the screw holes, etc. That's it. They now have a very extended treble (some might call it bright, but I'd call it very sparkly), and bass that, while it isn't the equal of the piledriving YH-100, is still pleasant and boostable. It just doesn't go very deep. This mod makes the T40v1 a poster boy for those skeptics who poohpoohed isodynamic treble. It doesn't sell isodynamic bass quite as compellingly.

Some of you (with some notable exceptions) may find the stock T40 sounds just fine simply minus the foam rings. Some will prefer the sound WITH the foam rings [shudder]. All I can say is: try it.
.
Edited by wualta - 8/17/10 at 7:20pm