This place (and the effort involved in stating things clearly) is actually therapeutic, so if plod we must, let us plod steadily forward. I should have a new
YH-100
(commissioned by one who knows who he is) damping mod cooked up here shortly.
Here's an old method I used back in the day of the ATH-1: punch out many little dots of felt and stuff them into the holes in the magnets. Hasn't worked on recent 'phones, but I thought I'd give it a try on the YH-100, since each headphone responds a little differently, and you have to admit, it's cute. Didn't like the results, though, and I may have damaged the corrugations on the diaphragm at one point. Not to worry...
But then, we have the future of cloth, ie, microfiber (or, if you're UK, microfibre):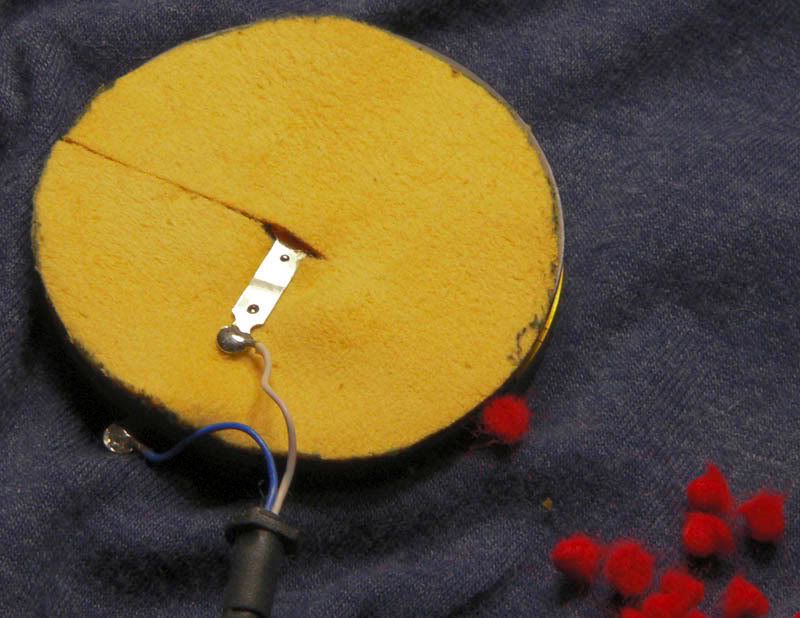 This is a fallout from my recent crazed interest in things microfiber, which is a contagion I caught from my friend in Atlanta, owner of a new Mazda3, who has become Mr. Microfiber. He recommended a trip to Wal-Mart to pick up a couple of products branded MicroTex. One's a famous terry blue towel, the other's a microfiber suede polishing cloth that's designed to look like chamois. Hold a disk of felt up to a lamp and you can see little dots of light poking through. Hold this stuff up to the light and you see no pinpoints of light, yet the cloth is thin. Even if it took several layers... you can see what I'm thinking. The cost at Wal-Mart is $4.36 for 3 cloths, so you can see we're talking real money here.
Oh, and don't tell my friend I'm not using the microfiber on my car.
UPDATE:
Looks good, doesn't it? Nice and yellow. Well, I'll save you the trouble of reading about the results a few posts down-- the microsuede just doesn't work as a primary damping layer on the YH-100. It's too effective as an acoustic resistance; it moves the resonant frequency way up into the upper midrange, so it screeches, and there's no bass. Turns out felt is sufficient and optimum as a primary layer, and both bass and treble can be tweaked if the response isn't flat enough or extended enough at the frequency extremes when you reach the point of critical damping. However, microsuede might be the perfect secondary layer for some drivers. Also read ericj's post #132 on the next page in re his YH-2.
.