Pros: Price. Overall Build Quality, Sound.
Cons: Not exactly an upgrade over previous model
The Korea based T-PEOS surprised the IEM world with their hybrid IEM a few years ago and still continues to push for more innovative design. As the name suggested, the H-100J is related to T-PEOS's original flagship hybrid, the T-100. However, the T-100J isn't meant to be a continuance but rather a rebalance, in order to appeal to those who do not like the V-shaped sound of the original T-100.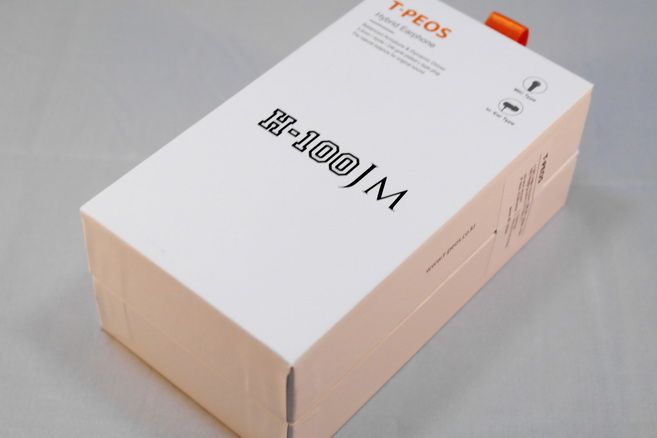 Spec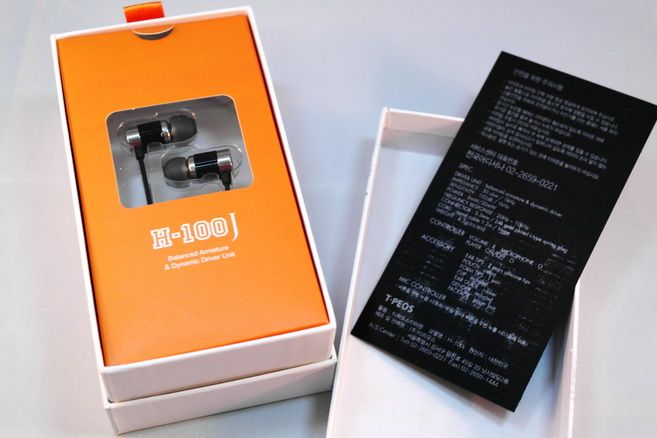 Transducer: 1 BA + 1 Dynamic Dual Driver Hybrid
Power: 3mW / 20mW (normal / max)
Impedance: 30 ohm @ 1kHz
Sensitivity: 102dB @ 1kHz
Frequency Response: 20Hz ~ 10kHz
Cable: 1.2m with single button + mic
Connector: 3.5mm L-shaped TRRS 24K Gold Plated Plug
MSRP: US$98

Packaging, Accessories and Build Quality
Nothing spectacular about the packaging, especially compared to the luxurious H-100, but nothing to really complain about either. The H-100J comes with soft pouch, over-the-ear guide, shirt clip, different sized eartips, one pair of form tips, as well as a short TRRS-to-TRS cable adapter, just in case your DAP or amp doesn't take TRRS plug. The cable comes with single button remote + mic so it should work with most smartphone out there.





Like the previous reviewed T-PEOS models, H-100J is quite well built and nothing to complain about. There is a tiny bit of driver flex but very minor and shouldn't be a problem at all. Overall, the Korean seems to play a little more attention to detail than most of the Chinese brands.

Sound Quality




H-100J has a classic warm and sweet sound that is smooth and full overall. Like the original H-100, bass reaches down deep and is abundance. Not bass monster level but more than enough for most except the most hardcore of basshead. Mid is full and very well textured, making vocal quite a treat. Treble is mostly smooth and has a slight roll off near the top, missing most of the sparkle and some of the micro-detail. Lower treble can get slightly grainy on bright music as well, though not always the case. Due to the forward and room filling presentation, soundstage is only average, neither wide nor closed-in. There is really nothing similar between the H-100 and the H-100J beside perhaps a good strong bass. H-100J, which is intended to 'cure' the issue for those who find the original sound too V-shaped and lacking mid texture, is definitely achieved its goal. By swapping out the micro-detail oriented driver to the more mid centric SR driver, T-PEOS has managed to reinvent the sound for the H-100 series. But it isn't really an upgrade per se, more of a trade-off between technicality and musicality. So instead of being more suitable for instrument and Classical like the original H-100, the new H-100J plays more nicely with mainstream Pop, Rock and any vocal based genre.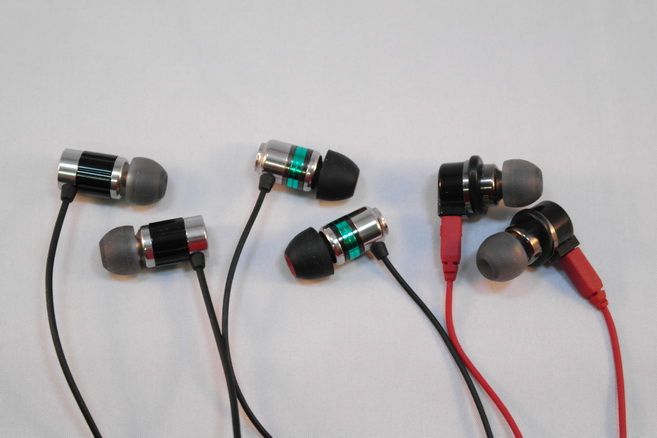 From left: H-100J, H-100, H-200.

Sum-up
T-PEOS, the company that once surprised the IEM community continues to solidify its status as a strong player in the market, offering seriously good product at a great price point. While the H-100J doesn't really get as much spotlight as the company top-end models, it is nonetheless great buy on its own right. If that's any indication, I guess we can expect many more goodies from the Korean for years to come.
Big thanks to T-PEOS and Mellow Work Studio for the samples.