Pros: Value, Comfort, good fit and finish.
Cons: None
Build Quality: For something hand built, the overall build quality is quite good. Of course, it isn't nearly as perfect as something from a plastic molding machine but it is far ahead from the early days of DIY cable with ugly and stiff heat shrink. The actual cable itself is surprisingly slim and flexible, almost looks fragile in a way but thankfully it is quite strong in the hand. The transparent sleeve showcases the rather delicate braiding of 8 silver plated 5N OFC wires. Yet because of the slimness of the individual wires, the whole cable is still extremely soft and thin. The pins termination as well as the Y-splitter section are all pre-molded plastic parts glued together to cover up the splitting and solder joints. The Yarbo 3.5mm plug is slightly on the heavy side but rather good in build quality. Inside, the solder joints has been hot glued to improve durability and strain relief is created by layering multiple heat shrink together. Again, not as good looking as actual molded strain relief but it is functional to say the least.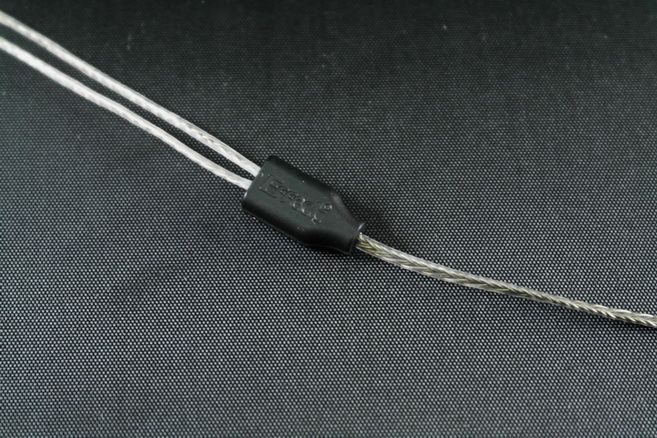 Ergonomics: Instead of memory wire, the ear loops are pre-molded using heat shrink. Due to the great flexibility and thinness of the cable, the overall ergonomics is excellent. Probably one of the best I have even seen among removable cable, stock or custom.
Tangle + Memory Effect: While the cable is soft, it does have a little springiness inside and tends to want to straighten itself instead of trying to curve up even after long storage time inside tight space. So basically it is quite a tangle- and memory-free cable
Microphonics: Fairly low in microphonics, almost as low as the stock UE cable for TF10 and much less than the stock cable on Lear LCM-5.
Overall: The cable itself has good build quality and excellent ergonomics. The price is also pretty good – well worth the asking price in my opinion because it almost disappears during use. I don't think you can ask more than that.